Oh, Deer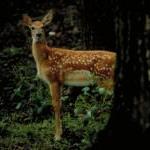 Are deer devouring your landscape? Some people use fences and other methods to keep them out—most of which can harm the deer and also interfere with their natural habitat. How about a simple, safe, and natural deterrent? And one that's free, renewable, and humane? (Hint: It grows on dogs.)
During the winter, deer love to feast on nutrient-rich flower and leaf buds and nibble on evergreens, like rhododendron. In our mid-Atlantic region, those buds and green leaves in the dead of winter are a veritable smorgasbord for deer.
While I enjoy seeing deer, I don't enjoy seeing them destroy my landscape plantings.  Since deer are very sensitive to smells, one solution that I've found to be fairly effective is to strategically place dog hair on the most vulnerable plantings.
A longhaired dog with a coarse coat is an ideal source of hair. Nellie, our rescued German shepherd/golden retriever mix, has perfect hair for this. Each time I brush her, I save the collected hair and keep it in a sealed plastic bag to preserve the scent. The only exception is soon after she gets a bath, as the hair may not have enough of her scent. Daily brushings during shedding season result in a bumper crop of hair.
From the bag of collected dog hair, a clump is gently pulled and twisted so that it can be tied around a twig close to a bud, as shown in the photo. I choose a few buds on some of the outermost branches of select trees and shrubs, focusing on the perimeter of the area I'm trying to protect. The hair is tied in a knot so that it stays attached, but not so tight that it strangles the twig.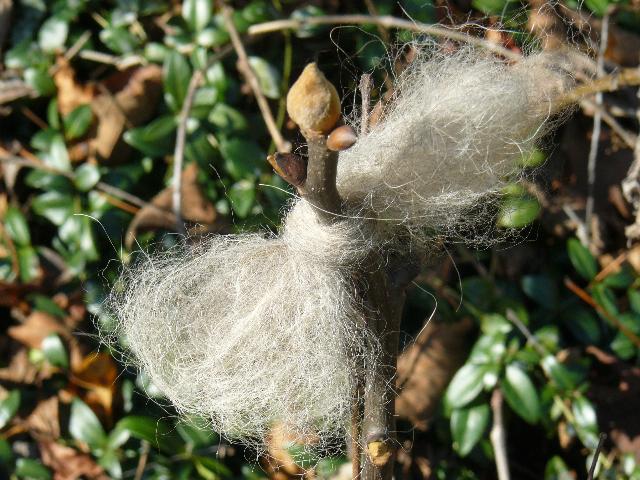 There's hair, and then there's hare. Fortunately, this same technique can be used year-round to help discourage rabbits from nibbling on your favorite plants that are also their favorite plants.
Come spring, there's an added bonus. Birds gather some of Nellie's hair to line their nests, and chipmunks scurry to their holes with some of her hair to add comfort to their dens. An all natural cruelty-free solution that helps everyone!
Foolproof? No. A deterrent?  Yes—at least in my experience.