When It's Sand Tart Time, Try This Vegan Recipe in Rhyme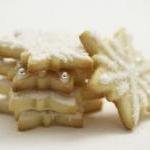 What better way to celebrate the holiday season than by baking a batch of traditional sand tart cookies? Gather your family and friends into the kitchen and make an afternoon of it.
Children will especially enjoy this fun rhyme to help get them going on this easy-peasy recipe:

It's grandmother's veganized sand tart recipe,
Serving not one or two generations, but three.
The ingredients are simple and cruelty-free too,
Easily attainable almost anywhere-even in Timbuktu!
One pound of powdered sugar, plus a pound of flour,
And the equivalent of three eggs,* this recipe will devour.
All that's needed now is a half-pound of vegan butter,*
A pinch of salt, and your favorite cookie cutter.
Mix all the ingredients and refrigerate the batter,
Work the chilled dough into balls-the size doesn't matter.
Thinly roll them on a floured surface nice and neat,
Cut out shapes and place on a cookie sheet.
Brush the top of each cookie with replacement egg.
Top with your favorite spice, like cinnamon or nutmeg.
Or sprinkle with colored sugar of whatever shade you're fond.
For the final touch, garnish with a pecan, walnut, or almond.
Bake them in an oven pre-heated to 375 degrees.
It only takes 10 minutes, but bake them to please.
You'll have 12 to 15 dozen cookies, each one a work of art.
Not only are they delicious, but each one is a vegan sand tart.
*For a vegan and cholesterol-free recipe, use Earth Balance Vegan Buttery Sticks (or tub) for the butter and Ener-G Egg Replacer for the eggs (or try some of these other egg replacers).