True Friends Forever!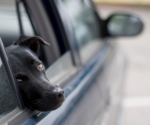 Happy is a true friend of mine. His full name was Happy New Year Martindale, and he was thrown out of a car into a ditch with the trash. A friend of ours rescued this poor mutt and delivered him to our doorstep, knowing that he would find a loving home with us. That was on New Year's Day, 1957.
For the next 10 years, Happy and I shared our lives together. His name turned out to be perfect: He was a dog who was exuberant, who thoroughly enjoyed living, who loved to romp in the backyard and play tug-of-war, and who laughed at my clumsy sleight-of-hand tricks with balls or dogbones. Happy was loyal, affectionate, and noble. He taught me about the responsibilities of caring for those we love. Even as a 7 year old, I was responsible for his care. And I grew up fast the day he got hit by a car and we had to take a bloody mess of whimpering pooch to the vet (he recovered from that harrowing incident). But most of all, when I looked into Happy's eyes, I knew that there was someone inside, someone looking back at me. It was easy to see that Happy had a mind of his own, that he was a sentient being with a soul, and most importantly, that he, like all of us, had the will to live and treasured his own life. It was then that I saw the obvious—that animals have rights, that they are not ours to abuse in any way.
When Happy passed away, I was in Vietnam, in a time and place where life and death were too cruel and too cheap for me to shed the tears he deserved. I didn't have time to mourn Happy's death or to celebrate his life … until now. I am dripping tears all over the keyboard as I write this, letting the loss of my good friend really soak in for the first time. And I have left Happy a proper memorial and made a donation to PETA in his name. His memory will now help save other animals. Please join me in celebrating his life-let's have a dog party!
And please allow us to join you in celebrating the lives of people and animals who were your true friends.  Who do you have in mind for this honor?