Prime Realization: Our New Visiting Friends—Deer in the Garden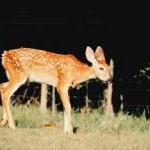 At first, we couldn't figure it out. Was there some kind of insect cutting off the stems of the tomatoes and chewing the leaves off the pole beans? Every time we replanted our tomatoes, the same thing would happen. We would see the progressive damage to our beloved tomatoes and scratch our heads. That is, until our detective doggies handed us the clue.
One day, we found our dear companions rolling in the evidence: strategic piles of deer droppings. Deer had discovered the garden!
This was a surprise to us because we hadn't seen a single deer in our garden ever, but looking at the evidence, it was clear that they were coming around every few days to nibble the new growth—and because of it, we were quickly losing some of our crops.
In the beginning, we started worrying that we would have problems with the tomatoes and that we might not get a bean crop either. The advice most often handed to us was to put deer fencing around the whole garden. That seemed like the solution we were going to resort to until that one day when I saw them.
Early that morning, I spotted the most beautiful mama deer and her adorable fawn, grazing right in the middle of the garden. I remember this moment in great detail because it was so special. If you are like me, you probably have seen deer hundreds of times in your life. But that day, something happened: Not only did I see them, I also really spent time looking at them and reflecting, fully absorbing their beauty and grace. I really perceived them as the wonderful animals they are.
When they saw me, they froze. We made eye contact, and it hit me like a ton of bricks. In that instant, their whole lives flashed in front of my eyes. They are being pushed out of their homes by new developments being built on the wooded hillsides. They are being slain by hunters who kill them as a cruel "sport." They are being chased by speeding cars running through their backyards. Every day, their lives become more disturbed and their natural habitat smaller. Now I was going to contribute to that by doing what many others do: I was going to fence them out of areas where they used to roam freely. Not anymore.
That was three years ago, and since then, deer have remained frequent visitors to our garden. The simple joy of seeing them in our garden is priceless. We strategically place deer netting over certain parts of the garden, and we are experimenting with a humane deer repellant on particular plants, but we have learned to live with less and to share what we grow with the deer, the birds, and the squirrels.
What do you think?