PETA Pack: for Animals, for Fitness, and for Fun!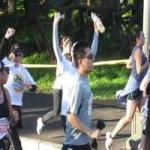 Registration is now open for the PETA Pack, possibly the best way ever invented to get in shape and help animals at the same time!
The PETA Pack is a group of runners who will train together for the Oakland Marathon/Half Marathon/5K race on March 28, 2010. We'll have a professional coach, and we'll all raise money to help PETA with its lifesaving work for animals. I ran my first-ever half marathon with the PETA Pack in February, and it was some of the best fun I had all year.
I know what you're thinking. "I'll never be able to run that far! The last time I ran was to catch a flight in Chicago O'Hare airport, and it wasn't pretty!" Lack of prior running experience is no problem for the PETA Pack—that's why we have professional fitness coach Darren Middlesworth. When I started running with the team, I thought a 3-mile run was pretty tough. Others on the team weren't runners at all. But in just three months, Coach Darren had us all ready to go on race day. I had an injury or two along the way, but Coach Darren always knew how to fix it and get me back into my running shoes.
If you're not in the San Francisco Bay Area, you can still be part of the PETA Pack by training remotely where you live. In 2009, we had 77 runners from all over the U.S. and Canada. Some of them were able to join us for the race in February, and others found a race to run in their hometown, with all of us cheering for them remotely. Together, we raised an incredible $57,000 for animals, and we expect to double that figure in 2010.
If you've ever dreamed of competing in a race, the PETA Pack can make it happen. I made some great new friends in the weekly team training runs, and having such a supportive group to train with kept me going when I was feeling tired. I ended up in better shape than I've been in the last 20 years—I was even able to keep up with the 20-something runners during the workouts. And best of all, I was proud of how much we did to help animals. I can't wait to do it again.
Training begins on January 3—a perfect way to start the new year! Register now to be part of the PETA Pack and help animals!