Ham Fights Back Against Paula Deen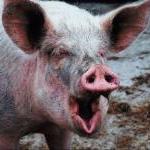 At a recent holiday event to promote Smithfield Foods' "Helping Hungry Homes" (HHH) program, celebrity chef and Smithfield shill Paula Deen was smacked in the nose by a wayward ham. 
Was it an accident, or did the ham muster the karmic energy to rebel on behalf of the pigs who died so that Smithfield could donate 25,000 pounds of "protein" to a food bank? We may never know for sure …
Another thing we may never know for sure is how Smithfield could afford to give away so many pig carcasses-sorry, "protein"-when just a few months ago, it was claiming that it was too broke to commit to a timetable for phasing out gestation crates-cramped cages that virtually immobilize pregnant and nursing sows for months on end that are right now being banned in states from Maine to California.
In a Smithfield TV commercial that is currently in heavy rotation, Deen warbles about how the HHH program isn't "just about givin' people food, y'all, it's about givin' people hope." What about givin' hogs hope, y'all?
Remember, Smithfield: Charity begins at home.