Wisconsin by the Bay: Charm, Cherries, and Vegan Surprises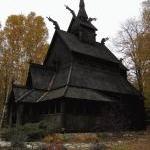 I knew there'd be plenty to love in Door County, Wisconsin. Green Bay views, parks with miles of bicycle trails, crisp white buildings reflecting Scandinavian roots, some of the world's best cherries (Montmorency) and apples (Honey Crisp, Cortland, Gala …). But I was just as impressed with the unexpected: the hospitality extended to this vegan eater.
Most restaurants offered many vegetarian dishes, and those without vegan options on the menu had chefs happy to prepare solely plant-based fare.
For example, young chef Benito at Village Café in Egg Harbor created a fantastic local cherry and vegetable fajita. Wilson's Restaurant in Ephraim serves a delicious veggie wrap, crunchy with finely shredded cabbage. Order the home-brewed draft root beer—it's made from a 1906 recipe!
And Julie's Park Cafe,  an affordable casual-elegant restaurant at the entrance to must-visit Peninsula State Park,  has abundant vegetarian dishes, many vegan, such as portobello mushroom stir-fry, veggie ravioli, cherry salad (sans cheese), sweet potato fries, and homemade granola.
Village Green Lodge raised the bar for hospitality—and vegan dishes. Proprietors Steve and Sue Sherman are awaiting green lodging certification for their B&B just steps from the water. The rooms feature Jacuzzis, plush towels, and pretty quilts … but guests are spirited from their comfy quarters to the bright communal room for Sue's delicious breakfasts. The buffet included such vegan-friendly choices as homemade steel-cut oatmeal, fresh fruit compote, and sunflower bread.
But when Sue, a cookbook author, learned I was vegan, she whipped up what I call "the Best Hash Browns in the World" (finely sliced zucchini is part of her secret) and a heavenly thick pancake that stoked my tablemates' envy. The lodge's adults-only policy makes it perfect for those seeking R&R or romance. Most of the guests were repeat lodgers. One mature couple told me the annual visit was a gift from their son.
Pleasures in thumb-shaped Door County include beachside nature centers such as Whitefish Dunes (where I was glad to see wolf preservation posters) and Hands On Art Studio,  where you use professional equipment to make beautiful glassware and jewelry.
A short ferry ride across the choppy waters nicknamed "Death's Door" is super-quiet Washington Island. Seafarers have luxuriated at its convivial Washington Hotel for 100 years. In a nearby field, flax and wheat are grown for the hotel's signature wood-fired brick-oven crusty breads and for Island Wheat craft beer. A short bike ride away is Stavkirke, a dragonhead-embellished church built in medieval Norwegian style using ship-like construction. Amazing architecture!
For Door County visitor info, call 1-800-52-RELAX or visit http://www.doorcounty.com.
Finally, here is a little bonus for you, my dear readers: that vegan pie recipe, courtesy of Orchard Country Winery & Market.  Hope you enjoy!
Door County Cherry Pie
For the filling:
2 1/2 cup unsweetened, pitted tart cherries, fresh or frozen (thawed), preferably Montmorency
2 cups sugar
3 Tbsp. quick-cooking tapioca or cornstarch
For the crust:
2 cups flour
2 sticks margarine
1/4 cup cold water
Mix the cherries, sugar, and tapioca in bowl. Set aside.
Put flour and margarine in a mixing bowl. With a pastry blender or spoon, blend the margarine and flour until creamy. Add the water and toss lightly with a fork until all is moist.
Form the dough for the crust into 2 equal-size firm balls. Sprinkle flour on the surface, roll out one piece of dough to about 1/8-inch thick and place in a pie pan.
Pour in the cherry mixture.
Roll out the other dough ball to 1/8-inch thick and place on top of the filling. Optional: Cut the top crust into strips to make a lattice-top pie.
Moisten your fingers with water, and going around the pan's edge, pinch the crusts' edges together to seal. Lightly moisten the top crust and sprinkle with the sugar.
Bake at 425°F for 15 minutes. Reduce the heat to 350°F and bake an additional 40 to 45 minutes, or until golden brown.
Makes one 9-inch double-crust pie