Winning PETA's Sexiest Vegetarian Over 50 Contest: My Reflections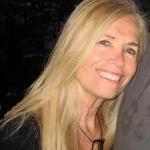 I recently entered and won the PETA-sponsored Sexiest Vegetarian Over 50 contest. After winning, PETA asked me to write a post for Prime reflecting on the process, so here goes!
First, I would like to thank all of you who voted for me. I am so happy and honored to represent our generation. But honestly, I had already considered myself a winner before actually entering. Not the winner of the contest, of course, but a winner because of feeling decades younger than my age. A winner because of not taking part in the inhumane treatment of animals by consuming them, a winner because of looking younger than my years, and a winner because being vegetarian is better for the environment. Winning the contest was a huge honor, as all the contestants had great stories and admirable vegetarian backgrounds, but one thing I know is that all vegetarians are, in their own way, winners.
Since claiming this title, I've given several television interviews and have been written up in newspapers and various blogs. Hundreds of people have contacted me telling me they are motivated by my story and are now trying a vegetarian diet. My Facebook account continues to grow as I receive notes from around the world from both women and men of all ages asking me for advice and telling me their stories. They show my television and written interviews to their parents or grandparents hoping to inspire them to become a vegetarian.
I'm still surprised when people ask me about my longevity secrets, as I don't feel my age. I don't have any aches or pains in my body, and I'm loaded with energy all day. Really, I don't mind getting older; what I'm after in my future years is optimum health. I don't let the idea that I'm 71 stop me from educating myself concerning health. I don't think, "It's too late" or "Oh, that just happens when you get older."
As I talk to people both younger than myself and those around my age, I find that many of them are on one or more medications. They have aches and pains and are tired all the time. They listen to their doctors but don't try to help themselves by researching any alternatives to their health problems or trying a vegetarian lifestyle. People eat all kinds of processed fast foods and animal products, not realizing that what they are eating affects their health. The saying "You are what you eat" is something I firmly believe in. Diet is important, and outlook on life is important. But most of all, I think that besides the inhumane treatment, eating animals and animal products is responsible for much of the illness and obesity problems in this country.
We are now aware that antibiotics and steroids are given to animals, that chickens are raised and forced to grow in larger numbers by keeping them crowded in pens, and that animals are treated inhumanely-grown, slaughtered, and brought to market as fast as possible. Imagine how good it feels being a vegetarian and knowing that animal products are not necessary for our health and happiness.
I've traveled extensively around the world this year, and whether I was in a medieval Tuscan village; Bogota, Colombia; or a rural town in Pennsylvania, I had no trouble finding and enjoying delicious vegetarian meals. I remember when I first went vegetarian 40 years ago—it was difficult to find things to eat away from home. Now, it's a completely different story. I find most restaurants accommodate the vegetarian lifestyle.
Once you truly love yourself, have the desire to be at your optimum health, and have compassion for animals, you will not question that we are meant to eat from the garden and enjoy life in our later years pain-free, happy, and full of vigor.