The Kids' Guide to Helping Animals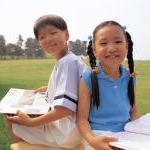 Jealous, hungry, inspired. That's what I felt the instant I started paging through PETA's new Kids' Guide to Helping Animals, the free magazine from PETA that will help kids channel their passion for animals into easy everyday actions.
Jealous—because as an animal-loving kid with no idea how to put that to good use, I spent a lot of time crying at Old Yeller and missed out on tons of opportunities to make a real difference (and yes, in case you have any doubts, kids can make a difference). Designed for the not-quite-tween, the Kids' Guide has tips and tricks for all aspects and phases of a kid's school and social life. From what to do if your school is planning a field trip to the zoo to cruelty-free shopping tips.
Hungry—because of the luscious photos of vegan snack goodness (and because it's close to lunchtime).
Inspired—to provide my son with as many opportunities as possible to make choices that will help cultivate his innate sense of compassion. Sure, he can't read yet, but it's never too early to start talking about helping animals!
This post, written by Sarah king, originally appeared in PETA living.