She's a Shelter Dog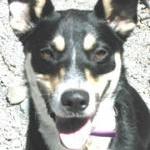 Our dog Sydney loves all the same things that most dogs do. Mention the word "walk" and her tail goes into overdrive. Start loading the car, and she leaps uninvited into the back seat, hoping to go with us. Ask her, "Where's Bodie?" and she runs through the house to find our other dog.
She wasn't always this way. We adopted her from our local humane society when she was about 9 months old. They had found her wandering the streets with a collar grown into the flesh of her neck. The day that we brought her home, she was frightened of the car, of the stairs in the house, and even of us—a sudden hand movement would send her cowering to the floor. That first night we kept her right next to the bed, and by morning she had chewed a substantial hole in the box springs.
It took years, but she finally learned to trust us. She's never quite lost her fear of being left alone, and we still wonder what happened to her in her first months of life. Was she lost? Abandoned? Abused? She wasn't the most attractive dog at the shelter that day, with scars on her neck from the extraction of that ingrown collar and a short stump of a tail. But somehow she touched our hearts, and we knew she needed us. It made us miserable to see how full the shelter was and to realize that many of the dogs wagging their tails at us would be euthanized by the week's end to make room for new arrivals. Back out in the reception area, we watched dog after dog come through the doors, scared and shaking, to be handed over by their families to an uncertain future.
I've been a shelter volunteer for almost nine years now. People surrender their dogs to a shelter for all kinds of reasons. Sometimes dogs' owners become too ill to care for them. Sometimes the owners die, and no one from their families wants to keep the dog. These stories always make me sad. Sometimes the family moves away and surrenders or abandons their dog. Sometimes the dog has a behavioral issue, and the owner doesn't have the knowledge or the patience to work on it. Sometimes the dog just doesn't fit into the owner's lifestyle anymore. These stories make me even sadder. But, one way or another, dogs keep coming into the shelter in need of homes.
Animal shelters and rescue groups are typically understaffed and underfunded. It's difficult for these groups to compete with other sources for pets, such as pet stores and breeders. Animal shelters are often located in a bad part of town or lack the funding to stay open on evenings and weekends or to advertise their animals. So people look elsewhere for a dog, and potential loving homes for shelter and rescue dogs are lost. And then more dogs come into the shelter, and the staff must make the terrible decision: Who must die today?
Not all shelter dogs are like Sydney, who had a lot of baggage from her early life. We later adopted Bodie from the shelter where I volunteer, and he's a normal and happy mixed-breed dog who has delighted in showing Sydney how much fun dog games can be. Wonderful dogs are waiting at every shelter. And if your heart is set on adopting a particular breed of dog, breed rescue groups abound and are always in need of good homes for their rescued purebreds.
Every time I walk in the door and see Sydney's happy face, I'm glad all over again that we were able to save her life. People are always asking us, "What a pretty dog—what breed is she?" and we always answer the same thing: "She's a shelter dog, and we love her.
This post was originally published in KP's Dog Blog.