It's the Bee's Knees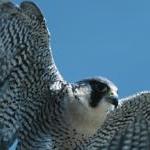 Actually, to be more accurate, it's the armadillo's nose and the mole's tunnel, but why quibble with semantics? I'm talking about video artist Sam Easterson's beautiful videos shot from an animal's perspective by mounting tiny cameras on their backs and in their nests and burrows. He assures viewers that the animals—who have included a sheep, a falcon, an alligator, a buffalo, a wolf, a turkey, and a tarantula, among others—are not harmed during the short time that they wear the camera, but as a veteran of numerous epic battles between domesticated cats and cat carriers,  I have trouble imagining attaching a camera to a tarantula without a struggle.
Nevertheless, the videos Easterson has created are remarkable. You can view several of them at the Museum of Animal Perspectives Web site. My personal favorite is the snuffling armadillo.  Those ears just don't look real! Hopefully, these videos can bring us closer to the realization that all animals are sentient beings who also have a point of view, which is all too often ignored.
What's your favorite video?