Going Vegetarian at AARP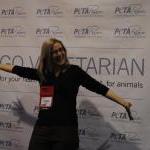 I'm still on a post-event high after helping out in the PETA Prime booth at the AARP's "[email protected]+" conference in Las Vegas. It was incredible talking to so many people who were interested in trying a vegetarian diet.
One woman told me, "I had a heart attack, and my doctor suggested that I go vegetarian." Far from being discouraged about her heart disease, she was excited about the opportunity to improve her overall health by changing what she eats.
Many visitors to the PETA Prime booth mentioned that they have friends or relatives who adhere to vegetarian or vegan diets. Even though some of them weren't ready to give up meat themselves, they wanted some information on how to make tasty plant-based meals they can serve to their dinner guests. And when I spoke to one woman about giving up meat gradually,  she replied, "Hey, that's not so hard! I'll try cutting out meat just one day a week!"
One of the more unusual stories I heard was from a woman who decided to go vegetarian after she saw the "Planet Earth" series on television. Once she saw the beautiful animals in the series, she realized that she didn't want to eat the other residents of our planet anymore.
I was really impressed with how open-minded everyone was. I spoke with dozens of people my age and older who have eaten meat their whole lives, but were willing to try a vegetarian diet. Some of them wanted to do it for better health. Some were concerned about the animal abuse and environmental problems on factory farms. And some had been vegetarian before and wanted to try it again. Hundreds of people signed up for the 30-day Pledge to Be Veg:  "Just 30 days? I know I can do that!"
One of the highlights for me was when one of the PETA Prime booth staffers overheard a conference attendee say at a nearby restaurant, "I just found out about the benefits of a vegetarian diet. What can you make for me that's meat-free?"
I couldn't believe the positive energy at the conference. One man stopped by to chat about how much he enjoys being vegan. I was still smiling from that conversation when a woman asked me if she could take some extra copies of our "Vegetarian Starter Kit"  for her family and friends: "They're just going to love these!" Right after that, another woman excitedly took some meatless jerky for her husband to try. People were thrilled about making a positive change by going vegetarian, and I was inspired by their enthusiasm—I don't know when I last met so many happy, high-energy people!
I can't wait for next year in Orlando!