Yes, It's True: Humans Aren't Meant to Eat Meat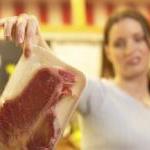 Ever since I first went vegetarian, I've heard comments like, "Eating animals is natural. Humans are omnivores, and we've eaten meat for thousands of years." I usually respond by talking about the suffering of animals and explaining that just because something is supposedly "natural" doesn't mean it's right. After all, many people used to think that it was natural to enslave other humans!
But then I got curious and did some research. The results surprised me: Humans aren't omnivores at all; we're natural herbivores. We thrive best when we eat only plants. Of course, people eat meat all the time, but our bodies are not well-adapted to meat-eating, and as a result, many people face a greater risk for health problems.  Saying that humans are natural meat-eaters is like arguing that humans are natural smokers.
Unlike all natural carnivores and omnivores, most humans have no instinct or desire to catch living animals, dismember them with their bare hands, and eat them raw. Natural meat-eaters look at a live rabbit or a cow (or even a roadside carcass) with happy anticipation. They can't wait to kill their prey and gnaw off a leg. In contrast, many people can't even eat meat that looks too much like the animal it came from; they want their meat skinned and deboned and placed in a plastic-wrapped tray at the grocery store. Even the less squeamish prefer their meat cooked and would rather not slaughter a deer by tearing his throat out with their teeth.
Our anatomy and physiology are those of natural plant-eaters. Human canine teeth are small and blunt, and we have flat molars for grinding up plant fibers. Look at a dog's or a cat's teeth and you'll see something quite different: long, pointed canine teeth for catching prey and tearing the hide and sharp-edged teeth in the back for shearing off chunks of flesh. Humans have hands that are useful for gathering vegetables and fruits but aren't that good for killing and ripping skin and flesh. Natural carnivores (like cats) and omnivores (like bears) have claws that they use to grasp and tear at their prey.
Humans are not designed to easily digest meat. Natural meat-eaters swallow their meat raw after no or minimal chewing, relying on their highly acidic stomach juices to break down the meat and kill the bacteria that cause food poisoning. We chew our food thoroughly, and we have a carbohydrate-digesting enzyme in our saliva to start the digestive process, just as other herbivores do. Without the stomach acidity that carnivores and omnivores have, we are forced to cook our meat to avoid the risk of food poisoning. Like all herbivores, we have a long intestinal tract, which is necessary for the proper digestion of the cellulose in plants. Carnivores and omnivores have shorter intestines, which are designed to quickly digest meat before it begins to rot.
Another clear indication that we are natural herbivores is the fact that eating meat causes us so many health problems. Meat-eaters face a higher risk of heart disease, cancer, diabetes, kidney disease, osteoporosis, and obesity. Natural carnivores can eat lots of animal fat without getting heart attacks, but humans can't. In fact, a low-fat vegan diet has been shown to not only prevent but also reverse heart disease in humans. People who avoid animal protein also have dramatically lower rates of prostate, colon, and breast cancer.
The invention of factory farms has made animal protein cheap and plentiful. But that doesn't change our basic biology. Humans are natural herbivores, but we have chosen to eat something that is unnatural and unhealthy for us—meat.
Check out this fun, fact-filled cartoon by Dan Piraro, author of the comic "Bizarro."