Victory! Ringling's German Tour Canceled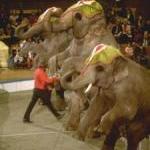 This post, written by Liz Graffeo, originally appeared on The PETA Files.
When our friends at PETA Germany found out that Ringling Bros. and Barnum & Bailey Circus was scheduled to tour throughout Germany this November, they immediately got to work brainstorming ways to get the tour stopped. Since many Germans aren't familiar with the U.S.-based circus, PETA Germany staffers began educating people about Ringling's abysmal track record of beating and abusing animals in order to force them to perform tricks that to them are confusing and unnatural.
Appalled by the idea that Ringling beats, chains, and cages elephants, tigers, horses, and many other animals, thousands of people contacted the managers of every arena where Ringling was scheduled to perform and expressed their concerns. And, guess what?
Ringling has confirmed that it will no longer be performing at all in Germany!
Want to get involved with putting an end to cruelty under the big top here in the U.S.? Use our automated form to urge the USDA and Secretary of Agriculture Thomas J. Vilsack to seize the elephants whom Ringling hauls around the country in filthy boxcars and forces to perform under the constant threat of punishment. The actions of caring people like you will make a difference for these elephants.