Tomatoes, Calves, and How I Found the Vegan Diet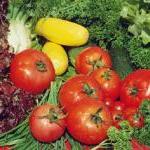 Canning marinara sauce with tomatoes from my Uncle Angelo's fields was a major event for my family; my mother and aunts joined my grandmother Ida in her basement to produce the best sauce in the world. The aroma wafting around the house and yard for an entire long weekend made me ravenous. Those tomatoes played a role in my decision to become vegan.
Along with pasta dishes, my grandmother frequently served me a baked chicken. She always did the killing and cleaning before I got there because everybody knew I was "sensitive" about animals. Although the veins in the dark meat always creeped me out, at the time, I couldn't resist anything grandma cooked.
My family would go to Cleveland's historic West Side Market to help Uncle Angelo sell his tomatoes. The adults would staff his stand while I ran around the huge market and gobbled up baked treats, cheeses, meats, and whatever samples the vendors would pass me.
One day, two doors swung wide open right in front of me, and a butcher emerged in a bloody plastic slicker outfit, a skinned calf flung over his shoulder. I stood in shocked amazement at this horrific sight. After he passed, I ran off to tell my mother about the scene. So, long before I knew about the abuses that calves endure in the dairy industry, I declared that I would not eat baby animals. Then I switched to eating "white meat" chicken because it had fewer veins. By the time I hit high school, I had pretty much stopped consuming land animals.
It was Peter Singer's book Animal Liberation that led me to go vegan in the late 70s and inspired me to form an animal rights group in college. In those early years of the U.S. movement's formation, groups of us would travel to so-called "animal rights" conferences and raise a ruckus because they were serving dead animals. The founding of PETA in 1980 changed all that—the organization now receives tens of thousands of requests for its free "Vegetarian Starter Kit" every single month!
Today, the West Side Market has many vendors that sell items labeled "vegan." I can picture a market with just those stands of beautiful tomatoes and other fresh vegetables and cases displaying vegan delicacies. It will be a market where no child will see slaughtered animals on display, and it won't be just because the corpses are hidden away.
Was there a watershed moment for you in relation to "food" animals?