Support Cruelty-Free Breast Cancer Charities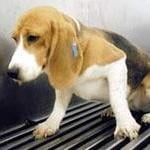 As a breast cancer survivor, I find October-which is National Breast Cancer Awareness Month-to be a bittersweet time for me. On one hand, I'm absolutely joyous that I've been cancer-free for 17 years, but I'm also reminded of the suffering that many others still endure. I think about the women struggling with breast cancer and about their worried, worn-out loved ones, but I also think about the countless animals who are caged and killed in experiments while researchers try in vain to find a cure for breast cancer.
In addition to being cruel, animal experiments are dangerously misleading. Because of the enormous differences between animals and humans, data taken from experiments conducted on one species cannot be accurately applied to another species. In fact, animal experimentation often delays effective treatments for human diseases. Taxol, a promising breast cancer drug, was shelved for years because animal tests indicated that the drug was ineffective. Later, after animal tests were dropped in favor of more accurate tests on actual human cancer cells, Taxol was found to be one of the most effective breast cancer treatments available.
Although other experimental cancer drugs do seem to reduce tumors in mice, experts agree that the very same drugs are usually useless to people. Dr. Richard Klausner, the former director of the National Cancer Institute, admits that "The history of cancer research has been the history of curing cancer in the mouse. We have cured mice of cancer for decades, and it simply didn't work in humans."
Instead of wasting time and money on inhumane experiments that don't work, charities such as the Love/Avon Army of Women, the American Breast Cancer Foundation,  and the Breast Cancer Fund put all their resources into direct care, clinical studies, community education, and prevention-humane, effective programs that can really help us understand, prevent, and treat breast cancer while improving the quality of life for women with breast cancer. Unfortunately, many other charities, including the American Cancer Society, The Breast Cancer Research Foundation, and the Susan G. Komen Breast Cancer Foundation fund cruel and archaic animal experiments. You can find a complete list of cruel and kind charities here.
I don't want any animals abused in my name. There is already enough suffering in this world; we don't need to cause any more. Animals' lives are just as important to them as ours are to us. They have feelings-just as people with breast cancer do-and given current technological advances, there is no reason to inflict unnecessary suffering on animals.