Santa Fe: Animal-Friendly Art, Vegan-Friendly Cuisine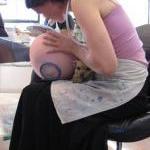 Animals have inspired artists around the world for centuries. The Biblical dove carries an olive branch, a harbinger of peace. Native American totems depict animal guides who help people along the journey of life. Pictures carved in volcanic rock in New Mexico's Petroglyph National Monument document relationships between humans and other animals.
When visiting Santa Fe, I love looking for animals in art as I gallery-hop. The Canyon Road art artery led me to Waxlander Gallery,  whose artists include Lori Faye Bock. When I look at Bock's colorful animals, they seem to have souls that transcend two dimensions.
I immediately connected with her artist statement: "Knowing animals and caring for them is one of life's joys. Even the most ordinary-seeming animals are truly extraordinary and give us so much." Bock lives with her husband, dogs, cats, and sheep near Santa Fe in Abiquiu, a land that lured artist Georgia O'Keeffe from the big city. Bock's paintings convey humor, wonder, and emotional punch all at once.
A different portrayal of animals is on display at Blue Rain Gallery in the historic Plaza district. Gazing at Tammy Garcia's exquisite bear sculptures, you feel their heft and curves. Her inventive bronze tiles depicting birds and other animals feel contemporary while echoing ancient traditions. Garcia wraps daringly shaped vessels with jigsaw motifs that silently tell stories.
At Rainbow Gate, a family of potters create tableware bearing cheery turtles, frogs, and other species.
When your cravings shift from art to food, Santa Fe obliges. The city has attracted great chefs, many aware of the growing number of vegetarian and vegan foodies. For example, Oliver Ridgeway at Inn of the Anasazi does wonders with miniature heirloom beets, puréed gazpacho, and vegetable-grain medleys.
Venture beyond the Plaza to support terrific, bargain-priced restaurants committed to vegan cuisine. Annapurna proves that health foods can taste sinfully good. Its ayurvedic healing menu includes dozens of vegan, gluten-free, and wheat-free choices. Agave nectar and rice syrup is used instead of refined sugar. In the Idli Sambhar, lentils, rice, and herbs are steamed into moist cakes (with coconut chutney!) and the Thaali plate combines chapati flatbread, Dal, and veggies. And the Dosa wraps rock.
Santa Fe also has many hotels that welcome guests traveling with companion animals. Info for visitors can be found at http://www.santafe.org.
The next time I visit, I'm dining at the Tree House. Know a rave-worthy eatery in Santa Fe? Found a favorite piece of art celebrating animals during your travels? Share!
Finally, my dear Prime readers, I have a quick announcement to make: You can now follow me on Twitter (@TravelVeg).