Prime Recipes: Cassoulet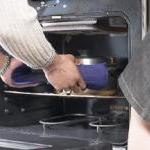 It is time for another yummy and fantastic recipe from our friends at VegCooking. Enjoy this dish by Dawnula Koukol and let us know how it goes!
To smoke the seitan cut a piece of foil 6 inches by 12 inches and fold in half making a 6-inch-by-6-inch square. Fold the side edges at least twice, pressing each fold firmly along the entire side. Put the wood pellets in the pouch and fold the top to seal. Poke a hole in one side of the pouch with a toothpick. You will need a perforated pan or pot to go inside another pan or pot. The food goes in the perforated pan and the wood chip pouch goes in the bottom pan. Cover tightly with foil and allow to smoke over medium heat.
1/2 lb. dried cannelini beans
8-oz. can seitan (mock duck), roughly chopped
2 oz. crimini mushrooms, quartered
1/8 cup alderwood chips or pellets
1 medium carrot, peeled and diced
1 medium parsnip, peeled and diced
4 Tbsp. olive oil
1/2 bunch Italian parsley
1/2 bunch thyme
1 bay leaf
3 cloves garlic
1/2 large yellow onion, diced
2 Tbsp. chopped garlic
2 stalks celery, diced
1 oz. white wine
1/4 cup tomato paste
1 Tbsp. herbs de Provence
Salt, to taste
Black pepper, to taste
1-2 cups vegetable stock
For the Crumb Topping:
1/2 bunch Italian parsley, chopped
1/2 bunch thyme, chopped
1/2 cup bread crumbs
1 tsp. onion powder
1 tsp. salt
2 oz. shredded soy cheese
2 Tbsp. vegan margarine
• Soak the beans overnight in water before cooking. Boil the beans in water until they start to soften. Drain and set aside.
• Mix the seitan with the mushrooms, and smoke for about 30 minutes. Set aside.
• Roast the carrots and parsnips in 2 Tbsp. olive oil in a 400°F oven until al dente, about 15 minutes. Set aside.
• Put the Italian parsley, thyme, bay leaf, and garlic into the center of a cheese-cloth square and tying it with a string.
• Heat a large pan to medium-high, add the rest of the olive oil and onions, and sauté for 1 to 2 minutes. Add the garlic and sauté another 2 to 5 minutes, until the onions start to brown. Add the carrots, parsnips, and celery and sauté for 1 to 2 minutes.
• Deglaze with the white wine.
• Add the tomato paste, stirring everything together, and brown the mixture while stirring occasionally.
• Add the herbes de Provence, fresh herb sachet, salt, pepper, cooked beans, and vegetable stock.
• Lower to medium heat and stir continuously until the flavors meld together and it becomes a little thick. Add the liquid from the beans if the mixture is too dry.
• To make the crumb topping, mix the Italian parsley, thyme, bread crumbs, onion powder, salt, and soy cheese together. Add the margarine and mix evenly.
• In an 8-inch-by-12-inch cake pan, pour the bean-and-vegetable mixture and top with the bread-crumb mixture.
• Bake in a 350°F oven until the topping starts to brown.