PETA Prime: Viva Las Veggies!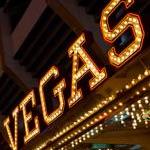 This post written by Karin Bennett originally appeared The Peta Files.
If you are in fabulous Las Vegas this weekend and want to win big, be sure to roll by table number 459 at the Sands Expo Center.
There you'll find PETA Prime at the "Vegas@50+" conference, organized by American Association of Retired Persons (AARP). Our booth features the many reasons to be "Veg@50+," including:
The odds for healthier living are in your favor when you go vegan. It's a winning gamble!