'Julie and Julia,' Vegan Style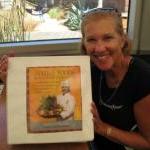 I was having lunch at Native Foods recently when I noticed a crowd around one of the tables. Upon closer inspection I found a woman who had taken the Julie and Julia challenge, vegan style. (You know that movie about Julia Child's cookbook that all the vegans I know, including myself, refuse to see because of the scenes with cruelty to animals.)
This woman was working her way through The Native Foods Cookbook. Not only was she cooking every recipe, she had photocopied the whole cookbook, then put the pages into a three-ring binder with plastic page protectors and decorated the pages with pictures of food she found in magazines like Veg News. It was a cool crafts project and recipe testing extraveganza all in one.
Think of what a fun project this could be for you, your family, or even a group of friends. Pick your favorite vegan cookbook and make it a project to cook every single recipe in the book. If you do it with your family, think of the wonderful meals you can enjoy together.
If you do it with a group of friends, it could be like a book-club potluck, where everyone in the group is assigned a recipe to make and bring once a week or once a month to a lunch or dinner party, rotating the location where you meet and eat and giving helpful tips on the recipe you cooked.
There are so many wonderful vegan cookbooks available now. Check out the cookbooks at the PETA Catalog and take the Julie and Julia Challenge, vegan style.
Do you have any great recipes that you've easily veganized?