Hey, Talbots: There's Nothing 'Ladylike' About Mulesing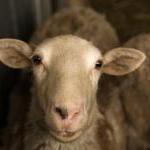 Nancy Talbot,  founder of the Talbots retail clothing chain, died last month at age 89. I like to think that the woman who described Talbots' clothes as "smart" and "ladylike" would have frowned on her company's refusal to stop buying wool from Australian farmers who mutilate lambs in a procedure called "mulesing."
Unlike many of its top competitors, including Liz Claiborne Inc. and Perry Ellis, Talbots has failed to take action, so PETA is taking the issue straight to Talbots' shareholders
Most of the world's wool comes from Australia, and most of the wool from Australia comes from lambs who have undergone mulesing—a crude mutilation in which farmers use gardening shears to carve chunks of skin and flesh from lambs' backsides without any painkillers in a misguided attempt to reduce maggot infestation, called "flystrike." Humane and effective prevention methods already exist—such as using better husbandry practices and breeding sheep who are not susceptible to flystrike—but many Aussie farmers stubbornly refuse to adopt them.
In response to PETA pressure, the trade group Australian Wool Innovation (AWI) agreed years ago to phase out mulesing by 2010. But with the deadline looming, AWI announced in July that it was reneging on that commitment. That's why it's more important than ever that the wool industry's biggest customers (i.e., retailers) let it be known that it doesn't pay to break promises.
Just recently, Jiangsu Sunshine Group—a $1.8 billion Chinese textile company and the world's largest buyer of Australian wool—called on the Australian wool industry to put an end to mulesing. And in addition to Liz Claiborne and Perry Ellis, many companies, including H&M, Abercrombie & Fitch, and HUGO BOSS, have pledged not to buy wool from mulesed lambs. If you think it's time for Talbots to follow suit, click here.