And the Lucky Winner Is …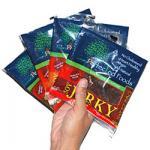 CONGRATULATIONS to Terri L. of Pittsfield, Massachusetts. She is the lucky winner of our latest PETA Prime contest and will be receiving a bundle of Perfected Foods' incredibly tasty, healthy, and totally cruelty-free soy jerky. Enjoy!
We have a very special contest coming up for you. Keep reading PETA Prime for details on how your celebrating kind choices can lead to a warm vacation this winter!