Zen-cation at Green, Wildlife-Friendly Amelia Island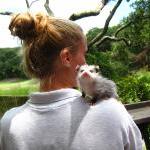 A spa resort that takes care of not only guests but also animals and Earth?
Welcome to Amelia Island Plantation, designed three decades ago in harmony with the Atlantic barrier island it occupies near Jacksonville, Florida. This "green lodging" award winner offers spa treatments using nontoxic, cruelty-free products,  tree-shaded clay tennis courts, golf courses certified as Audubon Cooperative Sanctuaries—land ocean beaches, tidal marshes, and a maritime forest of live oaks and saw palmetto that serve as a home to native animals.
No car is needed. You can zip around the eco-resort by shuttle bus, golf cart, or bicycle (my choice). Boardwalk trails preserve vegetation that buffers waterways and provides habitat for wildlife. You can also drift by kayak in the domain of egrets, roseate spoonbills, painted buntings, herons, and aquatic animals.
At the resort's Nature Center, naturalist Christina Nelson gave a flora—land-fauna overview followed by rescue-and-rehab stories about turtles, alligators, snakes, and squirrels given care, names, and affection. This can help even the most cynical folks see that animals are not a "nuisance."
One kind soul brought an abandoned baby opossum to the Nature Center in July. Since then, Mickey has gained strength on a rice, applesauce, and kibble diet, according to naturalist Amanda Clark. He'll be released into the wild by the time you are reading this. As I held him, his tiny claws grasped my fingers for balance. Watch Mickey's video—and find advice for protecting animals in your community—on the naturalists' blog.
Christina filled a tray with film canisters containing bags. She encourages kids and adults to limit souvenirs to what fits in the canister and to use the bags to collect plastic debris that can choke beach-crawling animals. Constructive beachcombing!
Amelia welcomes companion animals! They can lodge in terrace-level inn rooms or rental condos and leash-walk on the beach.
Among the resort's eco features: Reclaimed water is used to irrigate grounds and golf courses, room lights automatically turn off when vacated, air-conditioning auto-adjusts when balcony doors are open, cleaning products are nontoxic, and excess food is donated to food banks. The Project Planet towel/bedding reuse program saves about 180,000 gallons of water and 1,200 gallons of detergent at this resort. That's why, wherever I stay, I hang do-not-disturb cards on doors; I make even toiletries last several days.
At resort restaurants, you can request that vegetarian options be made dairy-free. Amelia Inn's "Healthy Start" breakfast buffet features fruits aplenty. For dessert, I loved the fresh-made tangy mango sorbet.
Worthwhile Activities:
Right Whale Festival: On December 5 at Jacksonville Beach, a festival and conservation education take place to honor the annual return of endangered whales.
Know of any other animal-friendly islands to visit?