Who Is That Bird in the Bush? Top Tips for Birding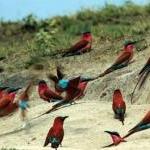 Whether you are new to birdwatching or a veteran field observer, let's focus (pun intended) on some simple tips that will help people identify the birds they see. I hope those who have struggled to identify that "brown bird on the feeder" will share any insight that they've gained over the years.
First, carefully study the birds you see every day; it's good practice. You'll then find it easier to identify other species you encounter. Check out size, beak shape, and how birds walk, fly, perch, and swim. What habitat are they in?
Choose a few birds that you can use as "yardsticks," and measure all others to your standard. The American robin is a great bird to use as a standard for size; you can ask whether any new bird you see is larger or smaller than a robin.
Get a field guide at the PETA Mall and note how bird species are grouped with others who share similar feeding practices, habitats, and behavior. Range maps will help narrow your search by noting which species appear in your area.
Grab your binoculars. You can get a low-priced pair that provides excellent viewing. Make sure you learn how to focus the binoculars for your eyes, particularly if you are sharing. Once you have acquired them, you can begin practicing with your binoculars by watching neighborhood birds. First, locate a bird with your eyes, then raise the binoculars to your eyes without moving your head. The bird should now be in your field of view. If that rock pigeon on the wire is about to fly down to the ground, focus on the bird on the wire and try to follow her down to the ground; if you lose her in flight, drop the binoculars, spot her with your eyes, and raise the binoculars to your eyes again. This technique is very helpful when it comes to popcorn-motion birds such as the beautiful warblers.
Look at the bird first and keep firm mental notes; the field guide will still be there long after the bird has moved out of view. Is there a pattern of colors on the breast, tail, or wings? Streaks or circles around the eye? What's that beak look like? How does the bird hold her tail?
Once you master the basics, keep the following general tips in mind:
Keep a list; note when and where you saw birds.
Learn birds' sounds and appearance with a CD or DVD or hand-held player. Don't use that portable device to attract birds!
In keeping with PETA's mission, promote respect for the birds in the field. Don't harass them by approaching too close.
You can enjoy the birds while advocating for other animals. Go on a bird walk with a local bird club, and take along vegan snacks to share!
Anybody else have tips to help either new birders or experienced birders who want to improve their skills?