Prime Vegan Baking Tips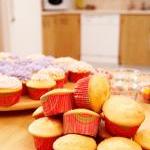 If you are like me, then there are times when you really crave some sweet food. The problem people often run into is finding those special all-vegetarian ingredients to make their favorite vegan recipes. Well, here are a couple of ideas taken from my book Making Kind Choices.

Egg Replacement
Tofu is wonderful for egg substitutions that call for a lot of eggs (like quiches). For each egg called for in a recipe, substitute ¼ cup whipped silken tofu to your cooking. You can buy commercial egg-replacer powders, such as Ener-G Egg Replacer. This can be used often in baking, but is usually best in recipes that call for only 1 or 2 eggs. For use in sweet baking, try substituting ½ of a ripe banana, mashed, or ¼ cup applesauce to replace each egg in a baked recipe. These will flavor the recipe, so make sure the fruit will taste good in whatever you are making.
To use things you have in your kitchen: For 1 whole egg, beat together 2 tablespoons water, 1 tablespoon oil, and 2 teaspoons baking powder. You may also try 1 tablespoon arrowroot and 1 tablespoon soy flour mixed with 2 tablespoons water, or 2 tablespoons flour, ½ tablespoon shortening, and ½ teaspoon baking powder mixed with 2 teaspoons water. For 1 egg white, dissolve 1 tablespoon plain agar powder in 1 tablespoon water. Whip, chill, and whip again.
Vegan Margarines
Some brands of margarine that are easy to find may not be vegan. However, many store-brand or generic spreads and shortenings do not contain animal products. Avoid ingredients such as whey, lactose, and vitamin D, which may be animal-derived.  For your baking needs, try using Fleishmann's unsalted margarine (stick), Spectrum Naturals (tub), Willow Run soy margarine (stick), or pure vegetable shortening grocery brand tubs.
Milk and Cream Substitutes
Like egg substitutes the best milk and cream substitutes to use when baking will vary for different recipes (for example, cream sauces), soy milk will do just fine.
For buttermilk, simply mix 1 teaspoon white vinegar into 1 cup soy mil. For a rich, creamy taste in sweet cooking, try using vanilla or chocolate-flavored soy milk in place of dairy milk. These also work very well as coffee creamer. Depending on the desired flavor of your dessert, rice, oat, almond, and even coconut milk can also work well in recipes that don't need to be boiled intensely.
Ready-Made Baked Goods
If you don't feel like cooking, nip around to your local supermarket and you can find vegan baked goods galore. If you have a Dollar Store near you, you will find apple and cinnamon cookies and twists and all manner of vegan baked goods on the shelves. Here are a few other suggestions (check labels, though, as ingredients can change from time to time):
Barry's Bakery makes six varieties of French Twists as well as other cookies. French Twist flavors include Original (cinnamon), Maple French Toast, Chocolate Chip, Mocha, Wild Raspberry, and California Almond.
Uncle Eddie's rich cookies come in chocolate chip, oatmeal, and peanut butter flavors.
Keebler Vienna Crème-Filled Fingers go beautifully with a hot cup of tea or coffee.
Krispy Kreme Pies: cherry, apple, and best of all, coconut cream—available in grocery stores and gas stations.
Little Debbie makes a ?cake doughnut? that's vegan, and available in convenience and grocery stores and gas stations.
Newmans-O cookies are organic and made without trans fats.
Rich Foods: Chocolate fudge stripe cookies.
Sara Lee has several varieties of vegan pastries.