Mobile's Southern Hospitality Extends to Animal Lovers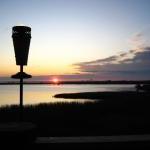 What's a nice vegan doing in a retired pro-football player's restaurant? Enjoying Caribbean-spiced grilled asparagus, yucca and mango, black beans and coconut rice, veganized bananas foster that packs a ton of flavor and zest (spicy pecans!), and hibiscus-mint tea.
Bimini Bob's is a new waterfront restaurant where you can watch alligators, birds, and sunsets over the Mobile skyline from the deck. "We love vegans!" says the server when I ask for her recommendations.
Chef Steve Zucker makes great vegan meals, having worked for years in Maui, where according to him, half of the diners were vegan! Young sous/pastry chef Johnny Armstrong is also a vegan master. He cooks vegan off-duty, too—for his vegetarian/nutritionist girlfriend. Check out the local Lagniappe newspaper for Bimini Bob's coupons.
The Alabama Gulf seaport has a colorful heritage. Mobilians have excelled in industries from shipbuilding to ironwork, so look for the ornate gates and lunettes around town and in the Museum of Mobile.  There, you can also learn about local civil rights advocate John LeFlore, who typed 50,000 individual letters in the quest for social justice. This sure inspired me to get typing!  The city claims the first Mardi Gras, dating back to 1703. It's a place where folks who are into azaleas, battleships, and animals peacefully coexist.
There are boat eco-tours, a cypress swamp preserve where alligators can live in safety, and sugar-sand public beaches on nearby Dauphin Island.
Dauphin has been dubbed "the birdiest island in America," and the birdiest months are October and April. The Audubon Bird Sanctuary offers flat walking trails, including a boardwalk through pines and magnolias to Galliard Lake, full of paddling turtles.
Good libations and music are easy to find in the historic Dauphin Street "LoDa" corridor. Folks with canine companions head to coffee shops, brewpubs, and Bienville Square. A burly, jovial manager at Veets Bar (66 South Royal St.) told me that he's eating vegetarian more often lately, having discovered that "it's pretty flavorful." I didn't find a vegetarian eatery, but many restaurants offer vegetarian dishes, and a few have chefs who embrace opportunities to do vegan improv.
Remember: Asking for vegan selections shows that there's a growing market for plant-based gourmet fare. So always ask!
I was happy to find a $10 Asian salad with portobello on Joe Cain Cafe's (26 N. Royal St.) menu—and even happier to find that it was delicious. Server John Roussos said the city's best party is the Joe Cain People's Parade, held the Sunday before Mardi Gras.
I'd prefer WOOFSTOCK, a multispecies festival that benefits Mobile's Animal Rescue Foundation. It's October 25 at Cathedral Square—a short walk from the gorgeously restored yet affordable Battle House Hotel, which welcomes companion animals.
For more information, call the visitor's center at 800-5-MOBILE or checkout http://www.mobilebay.org.
Safe travels!
Ever been to Mobile? If so, do you have any other recommendations?