How Do You Say, 'Animal Testing,' in Japanese? 'Shiseido'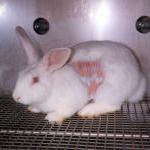 This post, written by Jeff Mackey,originally appeared on The PETA Files.
Our terrific colleagues at Japan Anti-Vivisection Association (JAVA),  who often work with PETA Asia Pacific, recently alerted us to Japanese cosmetics giant Shiseido's continued reliance on cruel animal tests for its products, which include wrinkle creams and its ironically named ZEN Eau de Parfum. Despite the fact that hundreds of companies worldwide have banned all animal tests forever, Shiseido is still forcing chemicals into animals' stomachs and dripping shampoo into their eyes.
No animal should have to die for lipstick, moisturizer, shampoo, or perfume, so we're helping JAVA step up its efforts to get Shiseido and other Japanese companies to give animal testing the heave-ho. Since Shiseido products are sold around the world, you can help convince the company to choose kindness—just go here to tell Shiseido why you won't be buying into its cruelty.