Running for Animals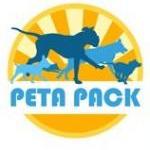 I just ran my first marathon, 26.2 miles in hilly San Francisco. I've wanted to finish a marathon ever since I was 18, and I'm still in a state of disbelief that I've actually done it after all these years.
This crazy journey began last fall, when a friend encouraged me to join the PETA Pack. We would train as a group to run a half-marathon in February and raise money for PETA to help animals. I showed up for the first training run with no confidence at all, but week after week we increased our mileage and had a great time together.
I've been vegan for about three years. I wondered whether I would need to supersize the legumes and nuts in my diet to meet my protein needs for all this exercise, but my regular vegan meals kept me going just fine. I was able to have extra dessert, too, since I was burning so many calories! One of my running buddies introduced me to the wonderful world of sports gels, most of which are vegan. The edible gels made an unbelievable difference to my energy level at mile 12 of those long runs.
The three months of training zipped by, and there we were on the starting line for the half-marathon. I had a great race. The best part was running alongside a group of compassionate people who help animals every day with their personal activism and fundraising. I was just giddy at the post-race party—runners had travelled from all over the U.S. to be part of the PETA Pack,  and I was inspired by how much money we had raised to reduce animal suffering.
We had so much fun doing the half-marathon that we decided to keep training. I was certain that a full marathon was too much for me, but my new running friends wanted to do it, and I was happy to tag along for as long as I could. In April, we joined Team Vegan to train for the San Francisco marathon and raise money to help with vegan outreach. To my own amazement, I was able to run the increasing distances: 14, 16, and then 20 miles, so I finally registered for the race.
Over the last few years, I've been learning how to be an activist for animals. I've written letters to the editor, worked on local and state legislation, and attended some protest demonstrations. But I always thought of fundraising as something best left to other people. This experience changed my mind. I was so moved by my friends' willingness to support the animals with their donations, even during a recession. With the help of many generous donors, I met and then exceeded my personal fundraising goal.
The wonderful members of Team Vegan got really creative with fundraising ideas. One of the highlights was the Vegan Prom,  with its "thrift store formal" dress code and incredible vegan desserts. I haven't had so much fun in years.
Race day. I was nervous, especially since I had sprained my ankle just two weeks before. But all was well. At mile 20, instead of hitting the dreaded "wall" where legs turn into lead weights, I hit a runner's high and finished the last six miles with a smile on my face. My marathon time wasn't very impressive, but that wasn't the point. I am elated at having done two things this year that seemed impossible to me. I completed the race and raised a bunch of money to help animals. I can't wait to see what's next.