Berlin: A Vegetarian's Paradise?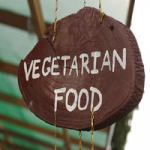 While in London a few years ago, I stopped in a bookstore and picked up a guide to vegetarian restaurants that was a solid inch thick. Needless to say, I didn't have any trouble finding delicious vegan food in England's capital city (I still crave the scrumptious lasagna I had at Manna).
Berlin, one would think, would be a different story. These are the folks who invented bratwurst, after all. But our friends at PETA Germany are out to disabuse people of the notion that the only thing a vegan can eat in Berlin is sauerkraut. They've produced a short video that tours the city's best vegetarian and vegan restaurants. Warning: Don't watch this on an empty stomach.
I don't know about you, but I'm ready to book a flight to Berlin right now!