What Us 'Old Folks' Can Do to Help Horses Forced to Race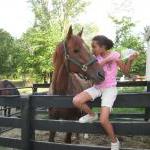 Slade was a thoroughbred stallion with a kind eye and a gentle disposition. He came into this world on March 8, 2001, a chestnut beauty with flashy white markings. Bred by Brereton Jones in Lexington, Kentucky, he was born to parents with noble racing pedigrees. Slade faced high expectations on the track. He was a successful racehorse, with earnings of more than $220,000 in 50 starts. But because he wasn't one of the "greats," you probably haven't heard of him.
Slade first raced when he was 2 years old, and he made it to the winner's circle at prestigious Churchill Downs. Success was fleeting, however, and by the time he was 4, Slade had become one of the thousands of disposable horses who are worn out and abused in anonymity at secondary tracks around the country. He was passed along through a series of "owners"/trainers who treated him as nothing more than a moneymaking machine. They raced him in spite of accumulating injuries. Until, that is, Slade stopped mid-race at Penn National on February 27, 2009, just shy of his eighth birthday. After his last race, the severely injured horse was acquired by yet another racing "owner"/trainer team. Slade then stood in a stall on the backside of the track suffering for three months, his injuries undiagnosed, untreated, and most certainly painful.
Slade was then lame, unable to carry a rider or race. X-rays of his ankle taken at the end of May revealed the damage and delivered his likely death sentence: severe end-stage osteoarthritis, a large bone growth indicative of repeated and chronic injury, and chip fractures of both sesamoid bones. It seems the only thing that kept Slade running as long as he did was drug injections.
Slade's sad story is typical of the thousands of horses who are broken down, used up, and tossed out like garbage by a greedy industry. Most horses in his condition go to auction, where they are purchased by "kill buyers" and shipped off to slaughterhouses outside the U.S.
But this is where Slade got lucky—as lucky as a broken down racehorse can get. He was rescued by Joy Aten and fostered by Mary Johnson. Mary and Joy are part of a growing number of people who know the racing industry inside and out and are working to expose the abuse. Slade's prognosis: a few weeks of tender loving care. He was confined to a large stall, unable to run, but in kind hands that demanded nothing from him for the first time in his life. He lived out his last weeks with plenty of good hay, fresh water, and necessary medical treatment all while enjoying the company of other horses close by. Slade enjoyed the good life in retirement for a few weeks before being humanely euthanized in a peaceful setting, with the dignity and respect that he deserves. That makes him one lucky racehorse, given the alternatives.
The average life expectancy for a horse is 24 years; in a compassionate world, Slade would have enjoyed many more years of experiencing life at its fullest.
But it does look like the tide is changing. Major racing events like the Belmont Stakes have all the earmarks of a declining draw: the general public has little interest in races unless a Triple Crown is at stake, and then they are only interested because of the headlines that the occasion garners in the mass media. Belmont Stakes attendance this year was down 44 percent from last year, and all-source waging was down more than 10 percent. The primary television audience appeared to be composed of older people. That's us, Primers! So listen up:
What You Can Do
Break this tradition. Please don't bet on horses or support race tracks financially with your patronage, since that is the lifeblood of this gruesome industry. Tell the National Thoroughbred Racing Association to stop exporting horses to slaughterhouses.  And if you are able to adopt a horse or know someone who can, please do so—to provide the loving and spacious home that every horse deserves.
After a lovely morning of eating treats, talking with other horses, and being brushed, Slade was euthanized on Friday, June 19, 2009, because of his osteoarthritis and injuries. Slade was a stallion, yet he was very gentle and sweet and loved attention. He was safe and peaceful during the final weeks of his life, but there are thousands of other horses who don't have that luxury. May his short life be remembered by all.