Prime Cat Poll: Which Cats Are the Most Affectionate?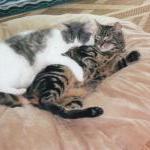 Since I was a little girl, I have adopted (and been adopted by) old cats, young kitties, tabbies, calicos, fat cats, skinny cats, black cats, white cats, girl cats, and boy cats. The only thing they all have had in common is that they've all been spayed and neutered! I don't understand why, but when I look back over the years at all the kitties I have lived with, my most lovey-dovey affectionate kitties have all been long-haired boy kitties. Is it a coincidence, or are long-haired boy kitties really more affectionate?
I know that every cat has his or her own unique personality and behavior. Some are shy and timid, while others are brave and act like one of the dogs. Some kitties run to the door looking for adventure when the doorbell rings, while others run and hide as soon as a car pulls into the driveway. Some kitties pounce on the vacuum cleaner's chord, while others run for cover as soon as the vacuum comes out of the closet. Some kitties go off and sleep in a far room of the house, while others insist on sleeping on your head or taking over one of the dog's beds.
But the one thing I can say for sure is that, so far, every one of the long-haired boy kitties I have shared a home with has been lovey-dovey affectionate. They all cried to be held and petted and loved to snuggle … and even liked to be brushed! My long-haired lover boy Romeo picks up the brush, drags it over to me, and rolls on his back, waiting to be brushed. My other long-haired lover boy, Buckwheat, can't watch me brush the dogs without crawling all over them, impatiently waiting for his turn.
So, PETA Primers, is it just a coincidence, or are long-haired boy kitties really the most affectionate? What's your vote?