PETA Activist Spotlight: 500th Protest and Counting!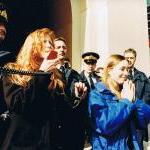 My 50th birthday is approaching at the speed of sound, and the occasion got me thinking about how long I've been working for animal rights. According to my estimates, last week's demonstration in downtown West Palm Beach was my 500th protest. I was there with two scantily clad young PETA ladies who were taking a shower to illustrate that the water it takes for six months of showers is equivalent to the water it takes to produce just 1 pound of meat. The protest made me think about the number of times I have worn my heart on my sleeve, stuck my neck out, and urged others to make compassionate choices using creative, colorful protests and nonviolent civil disobedience.
It was 29 years ago when I first stood determinedly with my sign held high against the cruelty of rodeos in Ontario, Canada. I heard the horses neighing from their makeshift stalls as they were being taken to the ring. I decided to stand firm in the rodeo parking lot when I was asked to leave and was then taken to a waiting police car. Since that day, I've been dragged away countless times—dressed as a bleeding rabbit, intercepted in the middle of a deer hunt sabotage, and tackled off the International Fur Fair runway, and I even narrowly missed being knocked over by reporters after orchestrating the first "We'd Rather Go Naked Than Wear Fur" demonstration in a snow blizzard in Yorkville, Ontario, in 1990. At that time, I was determined to get lots of media attention every two weeks about the cruelty of wearing fur.  Using different spokespeople, different group names, and a wide variety of attention-grabbing tactics resulted in success: The fur stores began to close in Toronto's fur district. I even managed to save a newspaper clipping from that event to keep me motivated!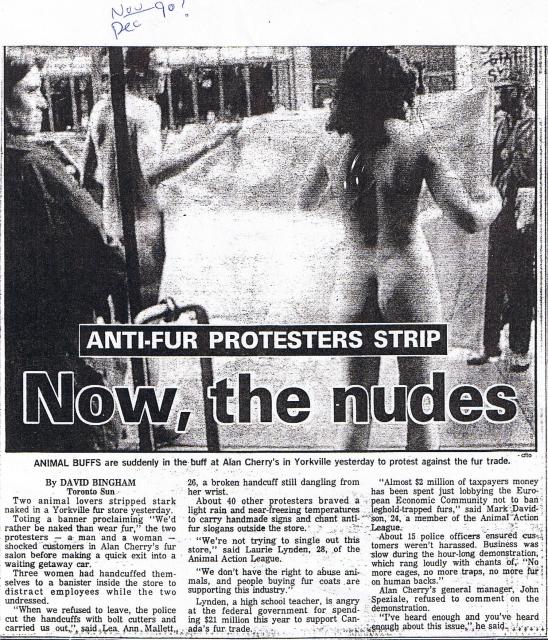 One person I was dating about a decade ago asked me how much longer I was going to be doing this. "Aren't you getting a little old for this type of thing?" I'll be standing up for animals—or sitting, if I am in a wheelchair—at 100 years old! "I will make sure that my voice is heard until animals are no longer being abused or killed in circuses,  laboratories, forests, and oceans and on factory farms and fur farms," I answered. This gave me a great idea. After spending some recoup time in a wheelchair after my first hip replacement operation around the winter holiday season, I thought what a great opportunity it would be to surprise the Toronto Federal Government Office dressed as an angel with a large costumed seal pleading for the seals to be spared in the annual slaughter. What government official could turn down an angel in a wheelchair at Christmas?
Some say protesting is outdated, but I wholeheartedly disagree. If it is done with humor, originality, and a few surprises, it can really get the point across. I still remember being amazed at the loud, receptive cheers from a large majority of the seated circus patrons who had watched a sad bear act as I was dragged off the Toronto Sky Dome stage with a banner stating, "Circuses Hurt Animals!" The audience actually clapped for my message. That's the power of an audacious protest coupled with media attention: It can change the hearts and minds of consumers, voters, parents, and children alike to make the kind choices that will help animals. It can also, as in the case of PETA, create the largest, most effective animal rights organization in the world.
Now I'm off—I can't be late for protest 501 …
Susan Hargreaves is an award-winning humane educator with kidshelpanimals.com who considers herself a veteran animal rights activist. Susan is known for her creative protests, including the first nude "We'd Rather Go Naked Than Wear Fur" demo, and is the creator of the radio series Animal Voices.