Free the Frogs—and the Snail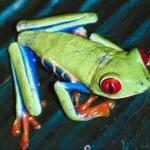 This post, written by Karin Bennett , originally appeared on The PETA Files.
When I was eight years old, I swore off aquariums forever after my dozen or so guppies committed suicide in the middle of the night. Rather than remain in a crowded, dirty tank, they leaped to their slow, suffocating deaths on the carpet.
The guilt that I carry around because of those poor fish has recently been rivaled by my anger and sadness at learning that Brookstone stores are hawking the "Frog-O-Sphere," a tiny aquatic prison that comes stocked with two African frogs and a snail (called "the janitor").
Brookstone tells its customers and employees that these frogs only need to have their water changed twice a year and to be fed twice a week. I can only imagine that those frogs will try to jump out of their cruel confines the first chance they get, so that they don't starve to death or die from poison.
Brookstone is offering a one-year warranty on the lives of the frogs, who can survive for five to 15 years in the wild. I guess that when the snail dies, the customers (and the frogs) are SOL-"the janitor" gets chucked into the garbage. And when customers place a complaint with the company, Brookstone offers up lame reasons why the Frog-O-Sphere is fine for these animals-reasons like "This species of frog will not out-grow the aquarium," and "when in the wild the African Dwarf Frogs generally live in a very small area of a pond or a stream." Then the company sends 'em 10 bucks.
PETA is squaring off with Brookstone, and we need you to write polite letters to the company urging it to join Magic Beans, "Tarjay," and other retailers that have stopped selling similar products prisons.
For anyone who insists on owning a portable, inexpensive, low-maintenance "aquarium," I have two words: "Koi Pond."