Read This Book! The PETA Practical Guide to Animal Rights by Ingrid E. Newkirk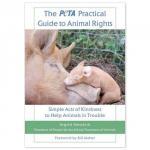 Whether you are new to the idea of animal liberation or have been an advocate for animals your whole life, Ingrid E. Newkirk's newest book is a must-read!
The book, titled The PETA Practical Guide to Animal Rights, summarizes the wide world of animal rights in one handy volume. It not only covers the current state of animal affairs but also has useful suggestions on ways that you can personally help— including tips on how to live more responsibly with animals, successfully share information with others about helping animals, and make conscious consumer choices. The subtitle is apt: Simple Acts of Kindness to Help Animals in Trouble. Ingrid proves to us that it is easy to live without hurting animals: You just have to care about other beings and follow through on your beliefs. She gives us plenty of motivation for doing both.
This book is lively and sprinkled with fresh anecdotes and stories about animals. In part, it is a timely update on abusive practices, including factory farming, the fur and skin trade, animal testing, circuses and other animal "entertainment," and even classroom dissection. Ingrid also covers animal companion issues, hunting, fishing, and wildlife. Each chapter is devoted to one major topic, complete with answers to frequently asked questions and guidelines for activism ("What you can do").
There are even recipes for homemade dog biscuits and vegan cheesecake!
In the second part of the book, you will find a comprehensive list of resources, including charities that do and that don't fund animal experiments, recommended references for animal groups, relevant videos and books, instructions on how to make cruelty-free products at home, addresses for contacting the media and government agencies, and even sample letters to use as models for writing to voice your concerns and outrage.
I can't shake off one heart-wrenching scene that Ingrid describes along the way— the story of a doe and her mate. When neither deer moved, an approaching hunter shot and killed the buck. Then he realized the doe was blind and that she had rubbed the fur off her right side, as the male had on his left side. Her loyal mate had been literally leading her through life, refusing to abandon her even when it meant certain death. Ingrid puts it mildly: "How marvelous if the hunter had felt even a portion of the buck's devotion." Well, that day is coming.
In sum, this book details why we must change our society and how to do so. Two thumbs up, way up, for The Practical Guide. Thanks, Ingrid, for writing yet another helpful and inspirational book!