An Inspirational Lesson:The Life of Riley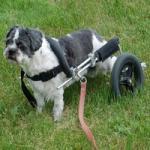 This is the story of a little black-and-white dog who is overcoming adversity and inspiring us all to value our time and live each day with joy. Riley was energetic and eager as a puppy, quick to pick up new tricks and new ways of doing things. Because of his personality, he made it easier to return home from the vet's after cancer forced us to euthanize our elderly dog, Shadow.
Riley has been a wonderful friend to Abbey, the other dog in our family. He especially likes his squeaky toys, sometimes squeaking in chorus with Abbey, and they are inseparable and love to sleep together. Riley has always been nervous and anxious: He'd always check behind us on our walks. But when we go camping, he is  totally relaxed in the woods or on the beach.
Riley's life changed forever a couple of months ago. Out of the blue, he suddenly had difficulty moving his hind legs. We immediately took him to see the vet, who told us it was either a fibrous cartilaginous embolism or a ruptured disc. Bad turned to worse, and it took a couple of traumatic and heart-wrenching trips to see specialists before a second radiologist located the herniated disc in Riley's back. There was no way to tell how much damage had been done to his spinal cord or what would be left if they operated on him. We considered our options: take no action (not our style), euthanasia, or surgery? Tough call. But at 9 years old, Riley was otherwise healthy and could live many more good years—and he was, after all, a part of our family. So surgery it was. That turned out to be very difficult for my husband, Dan, and me: sleepless nights, worrying constantly, and sprinting back and forth to the animal hospital for several distressing days.
When we picked Riley up after his surgical ordeal, he was pathetic and looked hopeless. He was in a little basket on a blanket with a catheter and an IV tube. His eyes were heavy, his breathing was shallow, and his mouth hung open. We were shocked and terrified. Two days before, we had a healthy, normal dog, and now he appeared to be at death's door. The surgeon told us he was on pain medication and that that's why he looked the way he did. This upset us even more to know that he was suffering. The surgeon had explained the procedure, the risks, and the prognosis. Riley would have to remain in the hospital for several days to recover. It appeared that he could recover up to 50 percent mobility, but whether he would walk again was  not known. Then complications set in. Riley's blood pressure skyrocketed and his eyes turned into two blood-red tomatoes. Finally, armed with lots of meds and good advice from the veterinary staff, we brought Riley home for a strong dose of TLC. We knew it would be difficult because although we were "Riley experts," we were not "sick dog" experts. Dan slept on the floor and nursed him along, and we kept the place quiet so that Riley could relax and regain his strength.
It took some time to recover, and we even took him to physiotherapy and acupuncture. But after a month, Riley had healed up nicely. He was not on any medication, and he slept peacefully on the bed all night between Dan and me. He was also doing regular Riley stuff, even squeaking his new toy frog, in a lovely chorus with Abbey—just like the good old days (a month before). Well, except for the wheelchair.
Riley cannot walk or relieve himself on his own. But with his new wheels, he can zoom around, even doing three-point turns. He now enjoys his regular trips to the park, where he can roll across pavement, grass, or gravel. The pavement is easier, as it is a smoother ride. Riley's new wheels give him an opportunity to move his front legs and explore on his own.
Riley seems to be the only one who doesn't know that he can't do the things he used to do. He still tries to jump onto the couch or jump (more like slither) off things. He drags himself to the door when we come home, wagging his tail as best he can. He wants to be picked up and whines until you do so. We have to help him go to the bathroom, and that's OK with us.
We have no idea what the future holds, as it is still early. This story does have a happy ending, though, because we have our wonderful dog in our lives. He still has the same spirit and heart, and he still makes me smile every day. He is adjusting to the new "life of Riley," and we will too.
Sharon Moran is a proud PETA member from Ottawa. In addition to Riley, Sharon and her husband, Dan, share their lives with three other companion animals: Abbey, Susie, and Annie.