Want Healthy Bones? Dump Dairy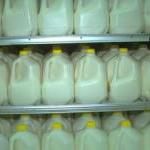 Researchers at the Garvan Institute of Medical Research in Sydney, Australia, recently compared the bone density of 105 post-menopausal vegan Buddhist nuns and 105 nonvegetarian women and found that their bone density was essentially the same.
This really shouldn't come as any surprise to us educated PETA Primers because, contrary to what we've been told by the dairy industry's relentless advertising campaigns, we know that drinking milk doesn't really do much to prevent osteoporosis.  In fact, clinical and epidemiological evidence indicates that dairy products may actually cause, rather than prevent, osteoporosis. That's because the excessive protein in milk leeches calcium from the body. Studies have shown that postmenopausal women who drank three glasses of milk a day actually lost bone mass twice as fast as those who didn't drink milk.
But wait—there's more! Harvard University's landmark Nurses Health Study, which followed 78,000 women over a 12-year period, found that the women who consumed the most calcium from dairy foods broke more bones than those who rarely drank milk. Summarizing this study, the Lunar Osteoporosis Update (November 1997) explained: "This increased risk of hip fracture was associated with dairy calcium. … If this were any agent other than milk, which has been so aggressively marketed by dairy interests, it undoubtedly would be considered a major risk factor"
So there you have it. Find out more about how you can protect your bones here.