Do Vegetarians Have Cleaner Dishes?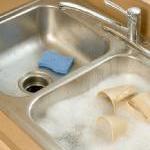 We were thrilled when the ban on selling high-phosphate dishwasher detergents went into effect in our county, Spokane County, Washington, last July. We had worked hard to help get this law passed because it is a win-win law: Phosphate-free dishwasher soaps are better for the environment, and the companies that produce them are also frequently cruelty-free! This ban will help stop pollutants from entering our aquifer, lakes, and rivers, and at the same time, it will save animals from the nightmare of animal testing.
The ban began last July and is scheduled to take effect in all of Washington State in the year 2010. And we have already seen a 10 percent drop in phosphate levels in the water flowing into Spokane's wastewater treatment plant.
So, what's been the reaction of our residents? You would think that people would be thrilled that a simple thing like using phosphate-free dishwasher detergent was having such a big impact, but there has been an uprising of people wailing about the ban. They are actually smuggling the high-phosphate dishwashing detergent from across the border in Idaho. Why? They're complaining that the low-phosphate detergents do not get their dishes clean enough!
I can report that the Anderlik family has been using cruelty-free, phosphate-free detergents in our dishwashers for many, many years, and we have never noticed a single problem with our dishes getting clean. Maybe it's because our dishes are not covered in greasy, cheesy animal fat that sticks to dishes like it sticks to the insides of veins and arteries.
It's hard to understand how people can be more concerned with their dishes than they are with their health, the safety of our drinking water, or the health of our rivers, lakes, and streams.
Have any of you PETA Primers had experience using phosphate-free detergents in your dishwasher? Have you had any problem getting your vegetarian dishes clean? I would love to hear about your experiences.