Are You the Sexiest Vegetarian Over 50? Enter Now!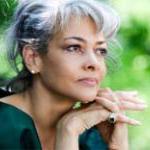 Were you vegetarian before it was cool-back when convenient products such as Boca burgers and Tofutti desserts didn't commonly grace the shelves at the supermarket? Or perhaps you gave vegetarianism a whirl after your doctor encouraged you to lower your cholesterol, and you later noticed that you started looking leaner and sexier overall. If so, it's time for you to shine: PETA is looking for the sexiest vegetarian over 50!
Vegetarianism has become synonymous with sexy, and Hollywood has taken notice. Stars such as Ellen DeGeneres, Emmylou Harris, Sir Paul McCartney, Prince, Russell Simmons, Sir Ian McKellen, James Cromwell, Bob Barker, and Cloris Leachman follow a vegetarian diet, which keeps their bodies looking hot and helps them sizzle on the stage and the big screen.
But it's time for the celebrities to step aside, because now we're looking for the sexiest vegetarian over 50 "next door," and we are giving the lucky winners each an Organic Shining Star gift basket from Vegan Divine!
If you are vegetarian, were around for Beatlemania, and send temperatures soaring wherever you go with your sizzling looks and your heart of gold, we encourage you to enter our contest! You just might be selected as the sexiest tofu-lovin' hottie over 50. Here's how it will work: A committee will narrow down the entrants to 10 male and 10 female finalists, who will be announced on PETA's Web sites on July 27, 2009. People around the world will then choose the sexiest contestants in a voting round. The winners will be announced on August 24, 2009.
Now on to the important part-the prizes! The male and female winners will each receive an Organic Shining Star Gift Basket, from Vegan Devine including a multitude of vegan delights, such as organic lime dark chocolate, organic lemon-filled wafers, cocoa java almonds, organic vanilla bean biscotti, an organic lavender dark chocolate bar and more all wrapped up in a star-shaped basket to commemorate your win!
Enter to win! After reading the complete contest guidelines, fill out this form for a chance to be named the Sexiest Vegetarian Over 50.