Your Attention Please: How Can We Stop the Circus?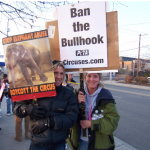 Twenty years ago, when we first started protesting the abuse of animals in the circus, getting media attention was simple. Animal rights protests were so new that it only took a handful of us with protest signs to get interviews and coverage on all the local news stations. Over the years, we have had to get more and more creative in order to reach the masses with our message that animals do not belong in the circus.
You might have heard people say that the animals in the circus are trained using "positive reinforcement." But the sad truth is that for animals in circuses, there is no such thing as positive reinforcement–only different types of punishment and deprivation. Trainers use bullhooks, whips, sticks, electric prods, and other tools that intentionally cause pain and injury in order to force animals to perform. Undercover footage of training shows that elephants were beaten with bullhooks and shocked with electric prods. Big cats were dragged by heavy chains around their neck and hit with sticks. Bears were whacked and prodded with long poles, and chimpanzees were kicked and hit with riding crops.
Think about it: Do animals voluntarily ride bicycles, stand on their heads, or jump through rings of fire? I don't think so. They only perform these tricks because they're afraid of what will happen if they don't.
Circuses easily get away with routine abuse because no government agency monitors training sessions. So we have tried various ways of bringing attention to the issue of extremely cruel and inhumane circuses.
For years, we were able to get away with dressing like clowns and handing coloring-book flyers to the busloads of children and parents. The children stood in line to get the circus coloring books. We were seen as just a part of the fun. Eventually, the circus sponsors caught on, and they started meeting the kids right at the buses and whisking them away from us.
Last year, a brave local activist chained himself to the arena doors and delivered a beautiful speech about the abuse of animals in the circus, but he was arrested. We have so far not been successful with meeting with the Shriners directly or getting our mayor and City Council to ban animal acts, so we continue to leaflet, write letters to the editor, and protest the circus every time it comes to town.
The laws where we live in Spokane, Washington, have gotten pretty strict. We are required to get a permit and stand on the sidewalk on the far side of the parking lot. This does not present much opportunity for leafleting or interaction with the circus crowd.
One of our local activists, Kelly, is an ex-circus clown who dresses up and rides a high-rise unicycle. Often, the children come running when they see Kelly doing his tricks, and we are able to engage with circusgoers.
What do you think? What else can we do? Are there other ways to try and reach the public that we haven't thought of?