What I Do for Animals? Never Enough!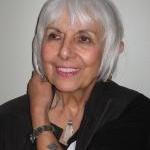 Like most of us, Claudine Erlandson didn't grow up in an animal rights family. She spent her first 20 years in France, where her parents' restaurant served foie gras, among other customary meat and dairy dishes. But Claudine found her own way, breaking free of the traditions she finds appalling today. She left behind that life in her early 20s, first spending a year in Iran, where she met Jack, who was doing his military service there, helping Iranians map their country. Voila! They will soon celebrate their 50th wedding anniversary! Send your congratulations below in the comments!
What does the 71-year-old Claudine do for animals now? "Never enough!" is how she answers that question, although her energy and accomplishments are an inspiration for us all. Claudine often contributes letters to editors, blog comments, and Internet postings to speak up for animals. She organizes protests at KFC once a week and is contemplating adding a weekly demonstration at McDonalds as well. As for circuses, Claudine says: "I have diligently attended all the demos against Ringling, first in Seattle and now in Everett (a city nearby). Ha! We have chased Ringling out of Seattle after many years of demos!" Yes, street demonstrations do change the world! And every month, she attends meetings with the IACUC—the committee responsible for overseeing animal experiments in laboratories—of the University of Washington to fight animal experimentation in the university's laboratories. Her international adventures are exciting as well: Claudine recently went to Cameroon to help save the chimpanzees at a sanctuary where she volunteered for six months a few years back.
Claudine has been vegan for 15 years, and vegetarian before that. She found that her healthy diet helped her overcome arthritis, and she is now using Neal Barnard's vegan approach to treat Jack's diabetes. She makes wonderful organic catnip balls and is the guardian of six cats and two dogs, Honeyboy and Louis. "They are all spoiled and that's the way it should be," she says.
At this point in her life, Claudine says that she has to make the most of every moment she has left to help animals, who continue to suffer so much. "Yet, I feel so good to see all these young people at PETA and elsewhere speaking out against the abuse of animals. Since my first PETA 101 conference in 1990 in D.C., I have seen so many changes for the better and more awareness and help from the public at large and also from police and politicians who unfortunately move too slowly. I cringe when I hear someone say: But they are just animals."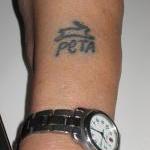 Aside from being a delightful lady, Claudine is one rockin' activist. Why does she love PETA? "Because it is the very best thing which has ever happened for animals!" Check out her PETA tattoo … and show us yours!