Vegan Skin Care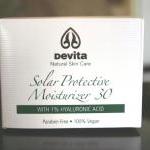 I was never into skin care when I was growing up in the late 1960s and early 1970s. Young, free-spirited, and fresh-faced, I had no use for it. Now in my mid 50s, I have been taking better care of my skin. I don't want to spend a small fortune on beauty products, and because I am vegan, my skin-care line must be completely cruelty-free and vegan, meaning no animal testing and no animal ingredients.
I realize that there are many wonderful vegan skin-care lines available now, but I recently discovered Devita and wanted to share it with you, since I am extremely happy with its products.
Devita-brand skin care is an all-natural line of aloe-vera-based products that are cruelty-free and completely vegan! The products are also reasonably priced. A jar of daytime moisture cream is about $23.00. I use five of Devita's many products: the Aloe Vera Moisture Cleanser, the Cool Cucumber Toner, Devita-C Accelerator (an amazing skin-firming solution), the Solar Protective Moisturizer 30 (it's almost impossible to find a nice day cream with 30 SPF), and the Evening Nutritional Moisturizer.
Devita has a great Web site, devita.net, which is full of information about every one of its products. The site includes a retail locater, with hundreds of stores that carry its line so that you can find the products in your local area.
My skin looks and feels great, I didn't spend too much, and I have a clear conscience knowing that no animals were harmed for my daily beauty treatment. Check out PETA's Caring Consumer site for more cruelty-free products.
How about you? What are your favorite cruelty-free vegan skin-care products?