The Vegan Grandmother: 'Let's Get Our Voice out There—PETA's Sexy Vegetarian Contest'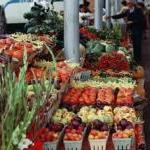 Every year, PETA hosts the Sexiest Vegetarian contest, and as expected, every year, some hotshot little 20—or 30-something wins.
So listen up, fellow baby boomers: I propose a revolt! And I know that PETA members, especially those who have been around as long as PETA Primers, know how to pull one off. After all, didn't (some of us) protest the war? No, not this war, that war—the one in Vietnam! And didn't we stage some pretty radical revolutions in our lifetimes? Heck, we invented cool, and we are not about to have it hijacked by some Johnny-come-lately vegetarians who think they are all that and a bag of organic chips! No way! Let's hear from the more seasoned vegetarians, the ones who have been at this for a while.
Let's support those vegetarians who went vegetarian before it was cool, before it was easy, and before all the movie stars jumped on the pumpkin coach. Hey, aren't we the same people who told our kids that when we were their age, we had to walk 2 miles to the schoolhouse everyday in a snowstorm and that it was uphill both ways? With all that walking and uphill jogging, you know our bodies are just feelin' the love, so how can we not be the sexiest vegetarians?
Back when we went vegetarian, we had to make our own seitan in the kitchen sink, forgo cheeseburgers and fries, milkshakes and fried chicken, and hot dogs because there was no such thing as BK veggie burgers, soy milk and ice cream, Italian-flavored breaded chix patties, and Smart dogs. No, sir—we sacrificed! We ate bean sprouts and watercress until we peed green and still got enough protein to fight a war against the ESTABLISHMENT!
So here's the plan, boys and girls! I think we should stuff that ballot box with votes for those nominees who are over 50! I mean, if Alec Baldwin and Emmylou Harris don't do it for you, well then, honey, check your pulse! Not only do they have great bodies that are hot enough to stop traffic, they also have finesse! They have the style, grace, and power that only comes with age.
Those 20-somethings have dominated the contest for far too many years. I say, let's show them a thing or two about how to be a winner. I know that you are persistent, powerful, and relentless. You must be, or you wouldn't be a member of the most effective animal organization in the world! I know you've learned a thing or two about campaigns, so let's have one of our own.
Get into your blackest attire, put on your headband or dorag, grab a few bottles of isinglass-free beer, and get voting for one of the many Primers on the list of nominees, including Ellen DeGeneres, Emmylou Harris, Sir Paul McCartney, Prince, Russell Simmons, Sir Ian McKellen, Steve Jobs, James Cromwell, Bob Barker, and Alec Baldwin.
Go forth, voters, and conquer. I believe in you, my brothers and sisters. I love you guys!