The Vegan Grandmother: Always Adopt, Never Buy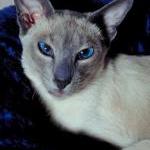 As an animal advocate, I am always talking to people about the importance of going to an animal shelter when you want to add an animal companion to your family. And I am so very, very gratified when I hear back from people who have successfully adopted their perfect companion.
It seems that everyone I talk to knows that animal shelters are full of mutts and mixed-breed cats. But what they don't often know is that up to 25 percent of dogs in shelters are purebred. So the desire to have a specific type of dog or cat is no excuse to buy an animal from a pet store or breeder.
I always emphasize to people that mixed-breed cats and dogs are often healthier, heartier, and less temperamental than purebred animals are, but try as I might, there are still some folks who, for what they argue are valid reasons, are really attached to a specific breed of dog or cat. Maybe they love the vociferousness of the Siamese cat or the sheer size of the Maine coon. Perhaps they have dog allergies, so they think a poodle or bichon frisé would be a better match.
Another option for "breedists" is to contact a breed rescue organization. It used to be that the only purebred rescue was a greyhound rescue. And while greyhounds can make great companions, there is now a variety of purebred rescue groups, including ones for Siamese cats, German shepherds, golden retrievers, Labradors, Dobermans … and the list goes on and on.
So where do these cats and dogs come from? In the case of Siamese cats, it turns out that they don't do that well in animal shelters. They are extremely people-oriented, vocal, and intelligent cats who are miserable and withdrawn when placed in a cage (wouldn't you be?!). So many animal shelters work with Siamese rescue groups to help find happy, specialized homes for these kitties. For example, I volunteer with a Siamese rescue group that has helped place more than 6,000 cats in loving homes-including mine!
Oh, and breed rescues don't just come to the rescue of dogs and cats. There are all kinds of rescue groups, including rat rescues, hamster rescues, and rabbit rescues. Any rescue group you seek out should be carefully screened, of course, to ensure that it is an actual rescue group where animals are exceptionally well cared for, housed and kept humanely, provided with veterinary care as needed, and never warehoused for years on end. For tips on finding a good shelter, visit http://www.peta.org/pdfs/ABC_sheltercheck72.pdf.
Moral of the story? No matter what type of animal companion you are looking to add to your family, there is never a good reason to purchase one from a pet store or breeder-this just adds to the overpopulation crisis. There are plenty of loving homeless dogs and cats-and birds and rabbits-out there in animal shelters and rescue groups who are looking for a quality forever home.
Do you have any great rescue stories? We'd love to hear them!