Stop The Use of Great Apes in Painful, Invasive Experiments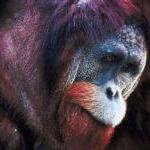 A few weeks ago, I received an e-mail from Phyllis, a longtime PETA supporter and animal activist. Phyllis wrote passionately about her efforts to protest for the release of Wenka, a chimpanzee born in a laboratory in 1954 who currently has the unfortunate distinction of being the oldest chimpanzee in a laboratory.
"She'll be 55 on May 21st—a few weeks later, I'll be 52," Phyllis explained, "Although activists have asked that she be moved to a sanctuary, the lab claims that she is too frail to move. Too frail to leave a concrete prison? To go to a sanctuary where she would be treated with love and respect instead of contempt and neglect? Before she dies, she could feel sunshine, breathe fresh air, or simply watch the leaves blowing in the wind."
Wenka is only one of more than 1,200 chimpanzees still held hostage in laboratories in the U.S. "A living nightmare" is the only way to describe the lives of chimpanzees who are still in laboratories in North America. They are injected with drugs and infected with diseases that they would never normally contract, and they are subjected to painful, invasive experiments. When they're not strapped to a table, they live in tiny cages with nothing to distract them from constant trauma, fear, and loneliness. They have been denied meaningful relationships with others of their own kind and the power to control any aspect of their own lives. It's little wonder that they frequently show symptoms of post-traumatic stress disorder, according to scientists who have observed chimpanzees forced to spend decades in cages no bigger than telephone booths.
Animal experimentation—in all its forms—is inhumane, immoral, and intolerable. It's also unreliable. According to a growing number of studies and expert opinions, it is bad science. No amount of wishful thinking will make the physiology of animals just like a human's, even if we do share a capacity for joy—and for suffering. No living being should have his or her body violated for cruel, utterly pointless experiments.
Australia, Austria, Japan, the Netherlands, New Zealand, Sweden, and the U.K. have banned or severely limited experiments on great apes, and several other countries and the European Union are considering similar bans as well. Tragically, neither the U.S. nor Canada have followed suit. In fact, the U.S. is the only nation in the world that continues large-scale use of chimpanzees in experiments.
There is something that you can do right now that will make a tangible difference in the lives of these exploited and abused animals—and send a shiver down the spine of any experimenter and any company, large or small, that choose to abuse animals in experiments.
Please sign the petition in support of the Great Ape Protection Act to end the use of all great apes in invasive research-chimpanzees, bonobos, gorillas, and orangutans-and retire federally owned great apes to sanctuaries like the Chimpanzee Sanctuary Northwest.
It's time for the U.S. to join the growing number of countries that have banned the use of great apes for experiments.
Kathy Guillermo is the director of PETA's Laboratory Investigations Department