Save Seals: Boycott Canadian Maple Syrup!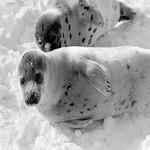 PETA has ramped up our efforts against Canada's medieval seal slaughter since the country is preparing for the upcoming 2010 Vancouver Olympics, which will focus more international attention—and scrutiny—on Canada! Activists have taken up the challenge with passion, energy, and ingenuity. We are placing billboards in Canada, protestors are hitting the streets, and Pamela Anderson (a Canadian citizen) has delivered a petition to Prime Minister Stephen Harper. Little ones even participated by making it their birthday wish that the slaughter be stopped. Kathleen Parker of The Washington Post spoke up for seals after PETA sent her a hakapik—a metal-hooked club used by sealers and recommended by the government to kill seals. European activists have staged massive demonstrations, and Vladimir Putin has gotten the message and banned the slaughter of seals under one year of age in Russia. And just recently, the European Parliament voted to end the sale of seal products across the European Union—a major victory.
But the Canadian government hasn't listened yet. In the time it takes you to read this blog, 60 more baby seals will be bludgeoned to death. In fact, the quota for dead seals this year is a mind-numbing 338,200 lost souls. This is not the will of the Canadian people, but that of greedy special interest groups, who get rich at the expense of seals and who are deaf to the public outcry. Money talks louder than seals scream.
Since it's all about money, it's time to step this campaign up a notch, beyond the seal industry itself, and hit the Canadian government where it hurts—the budget. For starters, we're urging everyone to take Canadian maple syrup off their shelves to send the economic message that the repercussions of allowing cruelty to animals go far beyond blood on the ice. Canada produces 85 percent of the world's maple syrup—more than C$200 million per year annually.
That's right: boycott Canadian maple syrup! You can ask your local grocery stores and restaurants to sign a pledge to join the boycott. Tell them that the maple syrup's origin is clearly indicated on the bottle. It's easy—f the label says, "Made in Canada" or "Product of Canada," get rid of it! If it says, "Product of the USA and Canada," get rid of it! If it says, "Product of the USA," keep it!
If you're not sure if your store's brand is sweet for seals or if you're not sure how to approach your local grocery store or restaurant manager, feel free to contact me for tips.
Happy eating!