How to Change the World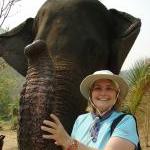 We are leaving a legacy with everything that we do or don't do. A few years ago, I got so enraged that the travelling circus with elephants was coming to my suburb of Chicago, once again. I am proud to say that I did something about it rather than sitting and complaining about how this just shouldn't be. Along with a group of caring people, I handed out brochures about the abuse of elephants in circuses and had one-on-one conversations with people as they entered (or in a couple of cases, changed their minds and decided not to enter!). I compiled information on elephants who perform and created informational packets that I sent to the trustees of the venue that hosted the circus. I even spoke on TV in front of the mayor and City Council and gave them packets too. The mayor was particularly displeased because he was very eager to have his picture taken while riding on one of the elephants.
All of these actions were really outside of my comfort zone, but the trustees finally voted to discontinue having the event on their grounds! Wow, it was so satisfying to know that I did make a real and significant difference. I later ran into a banker friend who is on another board with me, and he said, "Weren't you speaking out against the circus?" I thought, "Oh no, he will think I am a fool." His response was, "That was really great, I wish that I had the courage to do that." I think this illustrates that sometimes we have no idea about the impact that we make. That circus will not be coming here again, and ultimately, that makes a big difference, and I was the person who caused that change.
How do you want the world to be? Are you willing to do something about it? My vision is that all living beings will be recognized and honored for their contribution. That is the context for my life. How can our vision be expressed in the world? By the decisions we make and the actions that we take every day. We were successful in stopping the travelling circus after a lot of hard work, speaking one-on-one to people about to enter the circus and talking to the mayor, City Council, and trustees of the location that hosted the event. This is one way to express what is important. Your vision can be expressed in many ways.
I started to look at other ways that I could make a significant impact. Since PETA can be more effective in achieving its goal of ending animal suffering with the help of more money, I decided to name PETA in my will as one of my beneficiaries. How about you? Have you considered or taken any steps that would help you to leave a legacy for the benefit of animals? I will still be speaking out for animals every day, of course. But I am also making a statement with my money that will help PETA save animals in future generations. We are changing the world!
Carol Anderson is a long-time PETA supporter, guardian of dachshunds, and CEO of Anderson Wealth Advisors LLC.