The Vegan Grandmother: Take Your Grandkids to Protests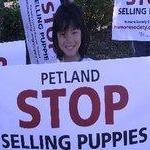 Young kids can be very sensitive. They find wonder in everyday things and are fascinated with absorbing life as it is unveiled around them. Kids can be empathetic as well, with an innate ability to understanding the feelings of others. Little kids oversimplify the measures that we use when determining right or wrong; there's not a lot of grey area in the mind of an 8, 9, or 10 year old. At this point, little kids have not yet learned to be cruel. This is the time their attitudes are being shaped and the ideals upon which they will later form opinions are being planted.
What brought on this particular contemplation was this: A few weekends ago, my friend Hope RSVPed to an invitation to join me in protesting Petland (because it sells hundreds of thousands of puppy mill puppies while shelter dogs die for lack of good homes, among other things) and asked if it was OK if she brought her 7-year-old daughter, Bella. Well, as all good protest organizers know, the battle cry of the successful protest is "the more the merrier," so I told her that I would love to have Bella join us. She did, and it was clear that it wasn't only the passersby who were being educated about the horrors of puppy mills. Bella was taking it all in as well.
When Bella arrived, she jumped out of the car and ran to me, asking when she could "stand out on the road and hold the signs for the puppies." She was more excited than she was at her own birthday party. "I want my daughter to understand what we are doing out there during the protest," Hope explained to me. She also explained that she felt that she needed to take a stand and wanted to show Bella that there are things one can do to standup against injustices. As a result of her being out with us, Bella is now much more conscious and aware when other people mistreat animals. Hope concluded, "What Petland is doing is wrong, and Bella understands that now."
I am thrilled that when Bella's little friends ask her what she did over the weekend, she'll be able to tell them that she attended a protest against Petland, and when they ask why, she'll tell them all about pet stores and their connection to puppy mills.
Some parents and grandparents may feel the need to shield young kids from the realities of life. I wonder, is that to protect fragile psyches-or is it more to protect our own way of doing things? If you tell a child about how animals are killed for food, are you risking nightmares and "acting out" because of loss of innocence, or are you risking your lifestyle when the kid then asks why meat is being served?
It's true that young kids can be very sensitive, but that's what makes them such lovely advocates for animals. They are brave, because nobody has shot them down yet. They are irreverent, because nobody expects them to be reverent. They are precocious, because society tolerates precociousness in children, calling it "arrogance" only when it comes from an adult. So if you think about it, children really do make the best activists. Give them the tools, then get out of the way!