Safety Tips For Kids: How to Handle Strays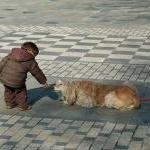 Oneras [what about peace?] /CC
Many of us already know the drill. When you see a dog you do not know, you politely ask the dog's guardian two questions: "Is your dog friendly?" and "May I pet your dog?" If the guardian says "Yes," you approach slowly, crouching down to Fido's level and holding your hand out in front of you with your fingers tucked under so that he can sniff you and get to know you a little bit. If he seems to like you, you may pet him under the chin or on the side the neck—but never on top of the head.
This, or some semblance of this, is what parents and grandparents have been teaching their children for generations, or at least I hope it is. "Never approach strange dogs" and "Always ask if they are friendly first" are precious nuggets of good advice for all kids.
But what if the kids are out playing and they see a stray dog or cat who needs help? What do you tell them about that? Or maybe they spot a wild animal in trouble, and there is no adult around; what should they do?
There is definitely a dual dilemma here. On the one hand, you want the child to be safe and not put him- or herself in danger. But on the other hand, you want to teach your child to help animals in need and not ignore the plight of a lost or injured animal. So how do you teach them to do both?
If children are knowledgeable about canine or feline body language, they should be able to discern whether the animal is a threat. Teaching children to recognize body language is crucial to their being able to handle a situation involving a stray dog. You can't always tell a friendly dog by the way the tail is wagging; sometimes that wagging is meant to warn you to stay away (in this case, the tail is actually flagging, not wagging). A flagging tail is held low and straight out and is moving slowly back and forth. The dog will be staring straight at you. A wagging tail, on the other hand, is fast and moves in a circular motion, and the dog's face is relaxed and trusting. When cats are friendly, they will approach you with their tails held high, but most cats, especially if they are feral, will skedaddle.
If children come across a stray dog who appears to be friendly, teach them to call the dog over and try to get him or her to go into a fenced yard. Then, once the dog is secure, the young person can call an adult to take charge. If the dog won't follow or is clearly unapproachable, then instruct the children (or grandchildren) to note the dog's description and the direction in which he or she is running and to find an adult who can call the local animal shelter or animal control right away. For a cat, children should learn to try to keep the animal engaged while someone else goes for help. Playing with a twig is preferable to petting, as that might make some cats fearful, causing them to bite or scratch.
If a young person comes across any other type of animal outdoors, such as an injured squirrel or raccoon, it's best that they call their local wildlife services. Make sure that they call a wildlife rescue or rehabilitation center and not a commercial wildlife-removal service. Children should be taught never to touch wild animals without an expert around and that some animals, such as raccoons, are nocturnal. If they spot a raccoon during the day, he or she may very well be ill, and it's crucial that children stay clear of the animal. Birds on the ground or other small animals are best just left alone, because there is a good chance that the parents are nearby, and you don't want to interfere. Here's a helpful guide that Ingrid E. Newkirk wrote about how to handle various types of animal emergencies.  It's a great resource for all of us, adults and kids alike.
If you teach children that dogs and cats who are running loose are not free but in danger, they will understand that to ignore animals in need is to miss an opportunity to do a good deed. Children who are empowered with the knowledge and the skills to take charge will be confident and secure and will be leaders. Teach them that it's about respecting animals—and the children won't let you down.
Have you ever helped a child rescue an animal?