My Favorite Spring Vegetable: Fava Beans!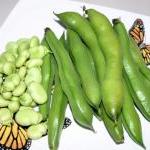 Most people think of asparagus when they think of a spring vegetable. I think of fava beans, and every spring, I look forward to many meals with that creamy, yummy bean.
If you grow them in your garden, you already know what a ripe fava bean pod looks like. When you buy them in the grocery store, you have to pick through what they offer. When buying fava beans, look for firm pods, bright green in color, with little or no brown spots. Also, if the pods look like they are bulging from large beans inside, then they might be too old, which means tough, dry beans, no matter how long you cook them. I like an average-size pod, not too big and not too small. A perfect-size bean is able to fit into a 1/2 teaspoon measuring spoon. Most produce managers will let you open a pod to check out the beans inside.
Once you bring your beautiful favas home, take them out of the pod, even if you don't cook them immediately, because the inside of the pod, which is a fuzzy cushion for the beans, doesn't stay fresh for very long. Shell the beans and put them into a little container or baggie, then store them in the fridge for a couple of days.
Fava beans have a second skin around them, and if your beans are very fresh, you can eat the skin with the bean. If your favas are a little older or tougher, you will want to pop them out of the skins and just eat the bean. Either way you eat them, you have to boil them first.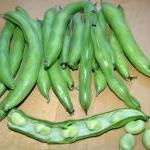 Fill a pot with water and bring it to a boil. Toss in the fava beans and boil them for three to five minutes or until you hear their skins sizzle and pop (they are breaking open). Drain the beans. If they are very fresh, use them as is. If they are a bit old, simply pop them out of their skin and proceed from there. (To decide, just taste one and you will be able to tell.)
Fava beans have a creamy, rich flavor and stand on their own just fine, and they also are great added to recipes. I like to take the just-boiled favas and spoon them on top of a bowl of brown rice, then drizzle them with liquid aminos or sprinkle with finishing salt for a simple meal. Or you can saute them with some garlic in olive oil and eat them plain or toss them with pasta or into risotto. Pesto sauce and fava beans are a match made in heaven, and we have many meals of pasta and pesto with favas tossed in. I have added them to mashed potatoes for a yummy richness and lovely color. Favas make a delicious dip, as well, when you use them in place of chickpeas for a twist on your average hummus. And don't forget to try them in soup—like this great recipe I found over at VegCooking.com for Egyptian market soup.
I would love to hear some of your recipes for using fava beans. I have a whole crop in my garden waiting for new ways to be eaten!