Cats vs. Dogs!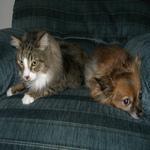 Diane S. Murphy / CC
Many people firmly consider themselves "cat people," while many others faithfully belong to the "dog people" camp. Are you one or the other? Do you think that there are personality traits that predispose certain types of people to make better companions to either felines or canines?
It certainly is true that cats and dogs have different needs and that individuals within those species vary markedly in their behavior. If they weren't so unique, why would we haul out the pictures and regale anyone willing to listen with the latest "fascinating" activities of our beloved animal companions?
And having spent decades helping to make permanent matches between people and rescued dogs and cats, I do believe that there are some personal characteristics that might help somebody decide whether to look in the cat rooms or the dog kennels first.
If you've ever looked out your window to see a letter carrier in a severe storm and thought, "That pledge of 'no rain or sleet or snow' is not for me," you shouldn't have a dog. After all, letter carriers only have to walk once a day, and they get Sundays off (no comments about possible cutbacks in delivery days, please). If you live with dogs, you really owe it to them to go for a walk at least twice a day-four times, if you do not have a yard that you can let them out in for a quick leg-lift!-every single day (or drive to an off-leash, fenced-in dog park for a run!). That's no piece of cake during unappealing weather conditions.
A cat guardian can simply snuggle down with his or her feline pal(s) and read a book, knowing that the indoor litterboxes are easily accessible 24 hours a day (and should be scooped at least twice a day, of course). But that doesn't let friends of felines off the hook for exercise and entertainment. If you are the sort who would prefer video games (or better yet, video game development) to the great outdoors, you would probably make a perfect "director of kitty games" for your household. This is a very important position.
While dogs also enjoy new games (especially certain breeds who need "jobs" in order to be happy), cats really enjoy a much more varied lineup of entertainment. Surely you've been humiliated at some point by the sight of a bored yawn on a beautiful cat face that was clearly sending the message, "Hey, that string with the fake feather on it was great yesterday, but how about something different today, please?"
You really have to vary the options for cats: a paper bag with a sparkle ball, a cardboard-box tunnel, a noisy ball, a bird video, scratching posts, etc. Vary those offerings if you want purrs and not bored stares. You signed a 20-year (or so) contract the minute you opened your home to a young cat, so keep those creative juices flowing.
Of course, I find this cat-versus-dog thing to be nonsense. I'm for cats and for dogs, and a mixed household is the best. It will put every one of your interests, skills, and talents to use keeping your animal companions happy.
What's your opinion? What human characteristics do you think might indicate that somebody will value feline companionship over dog companionship or vice versa?